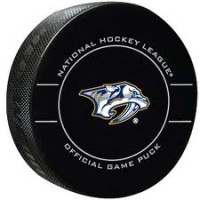 Raleigh, NC – The Nashville Predators shut-out the Carolina Hurricanes tonight 3-0, behind the goal tending of Pekka Rinne who returned to net after an eight day lay-off.
After being pulled from three of his last four starts, Rinne showed championship form tonight and produced the shut-out for Nashville who recovered from a devastating loss on Wednesday night to Las Vegas.
The Predators withstood an onslaught from the Hurricanes early in this contest and it was Rinne who stood firm in net to keep Carolina from taking the early advantage.
It was Rocco Grimaldi who got things started for Nashville at 8:15 of the first period and on a breakaway, slipped the puck between the legs of Carolina netminder Petr Mrazek for the 1-0 lead.
Then Callie Jarnkrok scored at 17:56 taking a pass from Filip Forsberg and scoring on a quick shot into the net and Nashville took a 2-0 lead.
Nashville had not won in Carolina since 2016 and Mrazek had beaten the Predators eight straight until tonight.
Into the second period and Austin Watson produced the final score of the game at 3:28 when he deflected a Colton Sissons shot on net to extend the Predators lead and the game final, 3-0.
The Predators were trying to recover from a heartbreaking loss to the Vegas Golden Knights in Nashville on Wednesday night where Las Vegas tied the game with less than a second left in regulation, then went on to win the game in overtime.
Nashville has been trying to get on track from a disastrous November where they lost six straight. The Predators then got two wins in a row against the St. Louis Blues to get back in the win column.
The Predators will fly to Florida for the second game of a "back-to-back" series when they play the Panthers. Puck drops at 5:30pm central time.