Clarksville, TN – In a game that had all the trappings of a March slugfest in Evansville, the Austin Peay State University (APSU) men's basketball team withstood every assault North Florida could provide and prevailed in a dynamic 90-83 win in the Dunn Center, Saturday.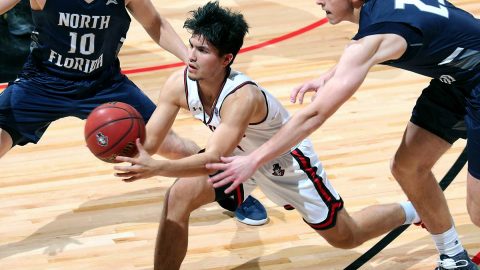 The win moves the APSU Govs back to .500 on the regular season at 4-4, while North Florida falls to 6-5 as it still searches for a road victory.
The defensive focuses were palpable from the outset: the Govs were going to do all they could to chase to the nation's leading three-point shooting time off the perimeter, and the Ospreys were going to make life tough for Terry Taylor.
Credit both for sticking to the plan in the first half—North Florida didn't hit a three-pointer until 2:38 remained in the half, while Taylor was held to just two points on four shot attempts as early foul trouble limited his time on the court.
With primary options being stymied, both teams turned to secondary options and found some success. For Austin Peay State University, both Eli Abaev and Jordyn Adams were the main catalysts for offense in the opening half, Adams on dynamic drives to the hoop and Abaev on lobs allowing his length and athleticism to go up and get the ball. The duo combined for 22 of Austin Peay's 39 first half points, and 18 of 20 to open the game.
After an Abaev bucket with 4:05 to play in the half made it an 11-point Austin Peay lead, the Govs appeared to have things under control. But the Ospreys closed the half on a 13-5 run, with Carter Hendricksen and Ivan Gandia-Rosa combining for all 13 points to make it 39-36 Govs at halftime.
The lead changed hands multiple times over the first 16 minutes of the second half, with neither team able to spread the advantage much more than a possession or two. That's when, following a technical foul call, Taylor decided to take over. First, a steal-and-dunk on the ensuing in-bounds play to make it a two-possession game once again. With under two minutes to play, he took a lob from Carlos Paez over and through two defenders, getting the bucket and then converting the and-one opportunity. The Ospreys would be within a possession of tying the game only once the rest of the way.
The Difference
While holding the Ospreys well below their nation-leading three-point marks, the true difference in this one was ball control. The Govs committed a mere seven turnovers—their season-low and fewest since March 7th against Morehead State—while turning 16 North Florida miscues into 19 points. The Govs also were on the plus side in points off turnover for the first time since the Vanderbilt game, winning that battle 19-7.
APSU Notably
This is the first win in the series by the home team.
Abaev finished with career-highs in points (13) and assists (3).
In their four wins, the Govs are now hitting 53.5 percent (137-for-256) from the floor; in losses, the Govs are hitting just 40.2 percent from the floor.
This is the Govs sixth straight home win dating back to last season; Austin Peay State University is now 4-0 to start the home schedule for the second year in a row, the first time the Govs have gone 4-0 to start the home campaign in back-to-back seasons since 2002-03 and 2003-04.
With 17 points, Adams ran his streak of double-figure scoring outings to six games, averaging 15.5 ppg during that stretch.
Freshman Pavle Djurisic was a starter in his first career appearance, playing four minutes.
This is the first time the APSU Govs have outrebounded their opponent will committing fewer turnovers since the home opener against Oakland City.
Taylor scored 18 of his 20 points in the second half after foul trouble limited him in the opening 20 minutes. He's now averaging 25.5 points on 67.2 percent (43-for-64) from the floor, with 10.5 rebounds, 2.3 blocked shots and 1.5 steals per contest.
Evan Hinson had nine points and hit all five shot attempts from the charity stripe, both highs for him as a Gov.
Paez was perfect from the floor (6-for-6) and from three (4-for-4) finishing with 16 points and leading the Govs with seven assists, a career-best. According to CollegeBasketballReference.com's Play Index, he's the first Division I player this season to post 100 percent showings from the floor (minimum six attempts) and from deep (minimum four attempts), and the first player to have those percentages in a game with seven or more assists since Eastern Illinois' Terrell Lewis (February 12th, 2015 against the Govs).
In Paez's last four games, he's averaging 11.5 points on 54.5 percent (12-of-22) from the floor and 60.0 percent (9-of-15) from three, averaging 3.8 assists and 1.8 steals during those contests.
This is APSU's first victory when allowing the opponent to hit better than 50 percent from the floor since February 21st against Southeast Missouri.
Opponents are hitting 91.1 percent (51-of-56) from the free-throw line over the last three games.
North Florida's three steals were a season-low by an Austin Peay State University opponent in 2019-20.
The win is Austin Peay State University's first this season when surrendering more than 70 points.
Milestone Watch
Taylor took sole possession of 10th all-time in Austin Peay State University history in blocked shots, now with 78.
Coaching Quotables with APSU Head Coach Matt Figger
On the game overall
"It wasn't pretty from a defensive standpoint. They are a very unique team, they've got four senior starters and they're picked to finish top-two in their league. This was the equivalent of a league game; it was like playing Belmont. They led the country in three-point shooting, and our plan was not to let them shoot threes."
On ball control
"I challenged guys after Arkansas. I thought our want-to, our will and our fight was really good at Arkansas, but when you go on the road at an SEC team and turn it over 21 times, you've got no chance to win. This was more in-character of how we should play."
On Paez
"He's playing at such a high level right now. Playing him and Antwuan (Butler) together gives us two point guards on the floor at the same time. We haven't had Alec (Woodard) all week with a sprain and Reginald (Gee) is out for the year with a torn ACL, so we're a little shorthanded and he (Paez) has stepped up a lot."
Up Next for APSU Men's Basketball

A well-earned respite after a long week at Arkansas and then against North Florida, the Austin Peay State University Govs will take a few days before hauling back out on the road to Morgantown, West Virginia to take on Bob Huggins' Mountaineers, 7:00pm, December 12th.