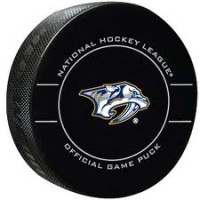 Nashville, TN – The Nashville Predators put on an offensive performance tonight against the New Jersey Devils, outgunning the visitors, 6-4. Former Predators P.K Subban and Wayne Simmons made their return to Bridgestone Arena, only to face the wrath of their former teammates in quite a shootout.
Nashville jumped on the Devils early with two quick goals to grab the early advantage.
Daniel Carr put the Predators on the board just 46 seconds into the game, when he deflected a shot from Dan Hamhuis, and netted his first goal of the season, and Nashville was quickly in front, 1-0.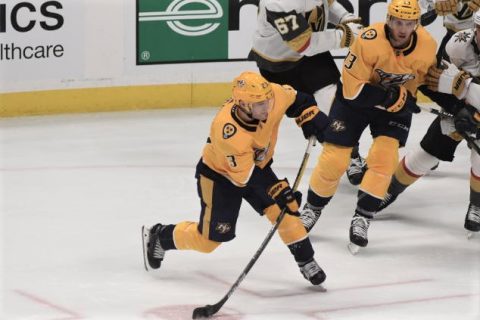 Then at 2:13 of the opening frame, Dante Fabro scored on the cross ice feed from Nick Bonino and Nashville had the start they have wanted all season long.
But not so fast.
Jesper Bratt buried a wrister past Pekka Rinne to cut the lead to a goal, 2-1. Then at 3:59 of the first period, Travis Zajac put a shot on goal that trickled into the net and New Jersey tied the contest, 2-2.
At 5:52 of the second period, Yakov Trenin, skating in his first NHL game for Nashville, grabbed a deflection off of a Rocco Grimaldi shot on net and recorded his first NHL goal and Nashville extended their lead, 3-2.
Filip Forsberg then got into the act at 7:24 in front of the net and swept up a loose puck on the rebound and scored to put the Predators ahead, 4-2.
Kyle Palmieri would bring New Jersey to within a goal at the end of the second period as he hammered home a shot past Rinne to pull to within a goal, 4-3.
The third period continued the goal scoring with Nick Bonino scoring at 5:47 and the Predators led 5-3. Taylor Hall would answer for New Jersey at 11:09 for the 5-4 tally, but Nashville's Rocco Grimaldi put the nail in the coffin of the Devils on a breakaway goal for the final score, 6-4.
Nashville outshot the Devils 37-33, but couldn't score on any of their five power play opportunities. The Predators are still trying to climb back out of their November slump to get into the playoff race.
Nashville will host the San Jose Sharks on Tuesday night at the Bridgestone Arena. Puck drops at 7pm.