Clarksville, TN – Clarksville Police report that the suspects responsible for the Sango Walmart incident on December 14th, 2019 and the home invasion at 135 Westfield Court, originating on Wednesday, December 18th and continued until early this morning (December 19th), have been identified and warrants secured.
The two suspects are Brady Witcher, age 41 and Brittany McMillan, age 28.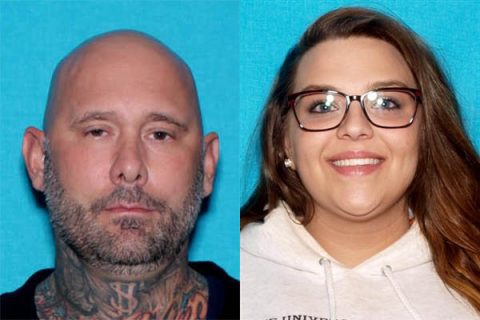 After Witcher and McMillan were able to elude police on the Wednesday, December 18th, they made their way to 135 Westfield Court, around 4:00pm and located an apartment which had inadvertently been left unlocked and made entry.
The suspects, who had guns, subdued the victims, tied them up, and forced them into a closet.
The victims remained in the closet until the suspects took them out sometime in the early morning of the Thursday, December 19th.
They victims in their 20s, who are married, were separated into different rooms, at which point, a confrontation between the victims and suspects occurred.
There was a discharge of a firearm during the altercation, the male victim was stabbed, and the female victim was able to wrestle away a gun from McMillan.
The victims were able to escape, police were notified and the suspects fled with the victims 2012 GMC pickup, Z71, Texas tag KST3558 with tow mirrors.
The pickup has not yet been recovered.
Additionally, another vehicle which the suspects stole out of Alabama on December 16th and has not been recovered is a: red, 2019 Nissan Altima SL 4S, North Carolina tag FMJ6505.
The male was transported to Nashville Tennessee, by ambulance, for treatment of stab wounds and is expected to be released soon. The female was treated for a leg injury and released from Tennova Healthcare – Clarksville.
Especially Aggravated Kidnapping and Theft of Motor Warrants have been secured for Brittany McMillan and Brady Witcher.
Additionally, they are both wanted out of Jefferson County, Alabama for capital murder and kidnapping. (No details available at this time)
They should be considered armed and dangerous.
The investigation is ongoing and additional warrants are expected.
If Spotted, Call 911. Anyone with information can contact Detective Hurst, 931.648.0656, ext. 5263, Tipsline 931.645.8477, or go online and submit a tip anonymously at P3tips.com/591