Clarksville, TN – After opening the season with a series victory, the Austin Peay State University (APSU) baseball team turns its attention to the 2020 SAF Dirt Classic, which it will co-host with three other Middle Tennessee teams, Thursday-Sunday, on Joe Maynard Field at Raymond C. Hand Park.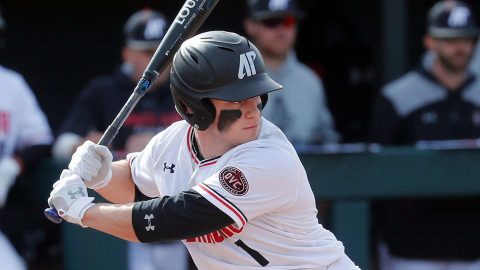 Austin Peay State University opens the event with a 3:00pm, Thursday contest against Missouri State, which was picked second in the Missouri Valley Conference's preseason poll.
The Govs then host Southern Conference preseason favorite Samford at 3:00pm, Friday.
Two more Missouri Valley Conference teams visit over the weekend. Bradley, which was picked fifth in the MVC preseason poll, hits the field for a 1:00pm, Saturday matchup. Evansville, picked sixth in the MVC poll, rounds out the weekend with a 1:00pm, Sunday contest.
The Governors opened 2020 with a 2-1 series victory against Eastern Michigan. Redshirt freshman Skyler Luna opened his Govs career with six hits (.462 batting average) and a team-leading five RBI. Ten different Austin Peay State University hitters posted a base hit and 11 finished the weekend with an RBI.
3:00pm, Thursday, Feb. 20
3:00pm, Friday, Feb. 21
1:00pm, Saturday, Feb. 22
1:00pm, Sunday, Feb. 23
PROJECTED STARTERS
APSU: Nolan Monaghan
(LHP | 0-0, 11.57 ERA, 3.85 K/9)
MSU: Matt Russell
(RHP | 0-0, 4.50 ERA, 4.50 K/9)Monaghan will make his first start since April 23, 2019. He appeared in relief against Eastern Michigan, Saturday, allowing 3 runs on 3 hits and 4 walks in 2.1 innings of work behind starter Hayden Josephson.
PROJECTED STARTERS
APSU: Harley Gollert
(LHP | 0-0, 4.50 ERA, 6.75 K/9)
SU: Sam Strickland
(LHP | 1-0, 0.00 ERA, 12.60 K/9)Making his first appearance in nearly 11 months, Gollert was solid in the season opener, holding Eastern Michigan to 2 runs on 4 hits while striking out 3 in 4.0 innings. He missed the bulk of 2019 due to an arm injury.
PROJECTED STARTERS
APSU: Hayden Josephson
(RHP | 0-0, 0.00 ERA, 6.75 K/9)
BU: TBA
Josephson put together a solid Governors debut in Game 2 against Eastern Michigan, surrendering 3 unearned runs in 4.0 innings while striking out 3 batters. He did not factor in the final decision with the Govs posting a comeback win.
PROJECTED STARTERS
APSU: Tyler Thompson
(RHP | 1st APSU Start)
UE: Jake McMahill
(RHP | 0-0, 1.80 ERA, 10.80 K/9)Thompson went 4.0 innings in his 2020 debut with EMU picking up 4 runs on 6 hits in the series finale. The Govs offense broke through in the final four innings to secure the victory.
Listen | Live Stats
Listen | Live Stats
Live Stats
Listen | Live Stats
First Hacks
Sophomore center fielder Garrett Spain posted 3 hits in the EMU series finale after the Eagles spent the first 2 games staying away from him. He finished the series with a .571 on-base percentage (4 BB, 1 HBP)
Transfer freshman Skyler Luna has a hit and RBI in each of his first 3 games as a Governor, including a 3-for-5 outing in the EMU series finale. He has 6 hits and 5 RBI in those 3 games.
Junior transfer outfielder Ty DeLancey began his APSU career with 2 hits in both the EMU opener and finale. He hit a bases-clearing triple in the finale as part of a 2-for-4, 3 RBI outing.
Sophomore Matt Joslin began the season as the Govs designated hitter before making a start at first base. He was held without a hit in the season's first weekend but had a bases-loaded walk in the series opener.
Freshman Reid Brown was pressed into service in the second inning of 2020, taking over at first base for the injured John McDonald. He began his collegiate career with a home run on his first swing and had 4 hits and 4 RBI in his first weekend.
Senior second baseman Malcolm Tipler scored each of the 5 times he reached base in the season-opening weekend. He also hit 2 doubles and a pair of sacrifice flies to push across 2 runs.
Junior shortstop Bobby Head finished the EMU weekend with an impressive 4-for-5, 3 RBI performance that including a game-winning 2-run home run in the sixth inning. Defensively, he started four of Austin Peay State University's six double plays during the series.
Sophomore third baseman Gino Avros fell a triple shy of hitting for the cycle in Game 2 of the Eastern Michigan series, going 4-for-5 with 2 doubles, a home run and 3 RBI.
Junior transfer catcher Alex Hay started 2 of the 3 games against EMU. He had 2 hits and 3 RBI during the weekend, including a solo home run in Game 2 of the series.
Out Of The Bullpen
Junior transfer Austin Carder assumed the role of closer during the opening weekend, promptly striking out three of the four batters he faced in Game 2 of the EMU series for his first save.
Senior Tucker Weaver was the setup man for Carder, providing 1.2 innings of scoreless relief in Game 2 to pick up the victory. EMU mustered just one hit (.167 BAA) against him.
On Deck In The Midweek
Austin Peay State University will finish its season-opening eight game homestand by hosting Western Kentucky in a 3:00pm, Tuesday contest at Raymond C. Hand Park. It is the first game in the annual home-and-home series between the Govs and Hilltoppers.