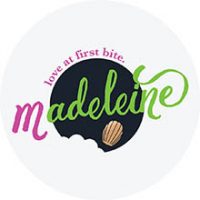 Clarksville, TN – Madeleine's Place recently opened at the corner of Strawberry Alley and First Street, the owners' second Clarksville location, where they deliver a mix of French home-cooking, breads, pastries and more.
For Valentine's Day, Owners, Haja Bosela and Eric Moutard, along with their small but talented staff, served up a 5-course meal at the cozy 40-seat bistro that somehow managed at once to completely satisfy their guests, and leave them wanting more.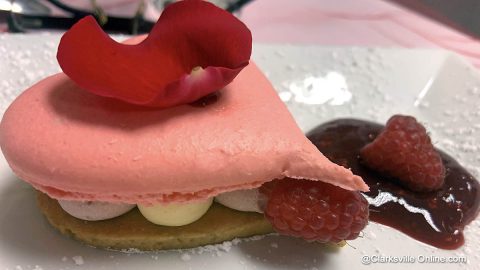 Smartly-attired diners trickles in between 5:30pm and 6:00pm. Most brought their own bottle of wine.
At 6:00pm dinner service began. The evening's five courses in order were, a Mise en Bouche, Soupe, Entree, Fromage, and Dessert.
The appetizer was Rilettes de Saumon, a blend of poached, fresh and smoked salmon held together with butter and crème fraiche.
The mixture was finished with lemon zest and chives and served atop a lime slice, with toasted French bread.
The soup was a French classic, Soupe du Barry. A cauliflower soup made with potatoes, stock and cream, topped with slivers of beets.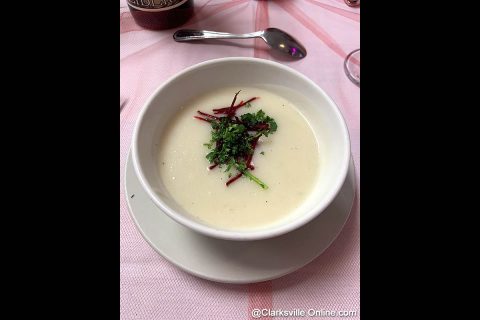 Souris D'agneau, the main course, was as visually impressive as it was tender and flavorful. Shanks of lamb were braised on the stove top, seasoned with salt and pepper, then slow-roasted in the oven for four hours with veal stock, honey, onion and thyme. A sprig of rosemary topped the lamb, which was accompanied by mashed potatoes.
The Fromage course consisted of Brie, Chevre (herbed goat cheese) and fresh Mozzarella served on a bed of greens that had been drizzled with Madeleine's house dressing, a simple vinaigrette.
Servers were greeted with a collective murmur of approval when dessert arrived, as mmm's ooh's and awe's filled the room.
Dessert was a Chef Pierre Herme-inspired Isaphan (Rose, Raspberry and Lychee) Macaron Cake.
The pink heart-shaped dessert with multiple layers was filled with flavored butter cremes, and topped with a single rose petal.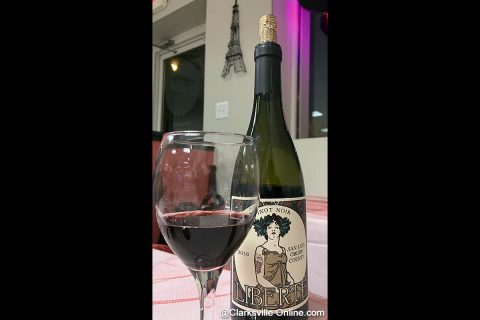 The item was a tribute to French pastries served by Laduree, which has been famous for its beautiful foods since the 1860's, and Chef Herme, who was awarded the title of World's Best Pastry Chef in 2016. The beautiful dessert had hints of chocolate and raspberry. and a dollop of Raspberry Coulis on the side.
At the end of the evening, Eric Moutard presented a single long stem rose to each of his female guests, a perfect ending to a romantic Valentine's Day dinner.