Special Weather Statement In Effect ... [Click here for more information]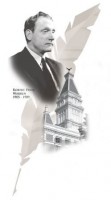 William R. Ferris, keynote speaker for the Seventh Annual Clarksville Writers' Conference authors' reception and banquet, held at Clarksville Country Club on Thursday night, is as close to being a rock star as you can get in the world of Southern culture and its study.
Although now the Senior Associate Director of the Center for the Study of the American South, professor of history, and adjunct professor in the Curriculum in Folklore at the University of North Carolina at Chapel Hill, he was formerly the chair of the National Endowment for the Humanities (NEH) beginning in 1997 when he was appointed by President William Jefferson Clinton.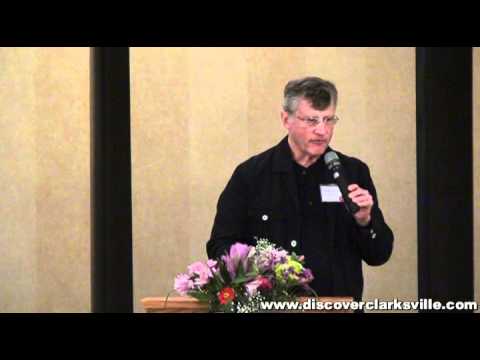 From 1972 to 1979, he was an associate professor in the American and Afro-American Studies Programs at Yale University. During his tenure at Yale, Ferris co-founded the Center for Southern Folklore in Mississippi, and was its director from 1972 to 1984. Ferris returned to the South, and, from 1979 to 1997, he was the founding director of the Center for the Study of Southern Culture and a professor of anthropology at the University of Mississippi in Oxford. While there, he established several annual conferences, including Oxford Conference for the Book, the annual Faulkner and Yoknapatawpha Conference, and conferences on Elvis Presley, civil rights and the law, and civil rights and media among other cultural programs. In 2002, Ferris was a Visiting Public Policy Scholar at the Woodrow Wilson International Center for Scholars.
Added to these distinctions, Ferris is author of 10 books, among them being the co-authoring of the massive Encyclopedia of Southern Culture which was nominated for a Pulitzer Prize. He has also written Mule Trader: Ray Lum's Tales of Horses, Mules and Men; Local Color; Images of the South: Visits with Eudora Welty and Walker Evans; Mississippi Black Folklore: A Research Bibliography and Discography; and Blues from the Delta.
William Ferris's films include Mississippi Blues that was featured at the Cannes Film Festival. He has created 15 documentary films in all. He was a consultant to the 1985 movies The Color Purple and Crossroads, the latter about blues music. He also has produced numerous sound recordings and hosted "Highway 61," a weekly blues program on Mississippi Public Radio for nearly 10 years.
Dr. Ferris's honors include the Charles Frankel Prize in the Humanities given to him by President Bill Clinton, France's Chevalier and Officer in the Order of Arts and Letters, the American Library Association's Dartmouth Medal, and the Mississippi Institute of Arts and Letters Award.
If you aren't impressed yet, just wait until you hear what he had to say during his speech!
Bill Ferris grew up in Vicksburg, Mississippi. His grandparents were friends with Eudora Welty so he knew her from his childhood. She was responsible for writing Robert Penn Warren to ask him to take Bill under his wing when Ferris moved to Yale in 1972—and he did. In addition, while Ferris was at Yale, he invited many blues personalities to visit; among them was B. B. King who was then asked to give a baccalaureate address. B. B. King whose formal education was minimal gave the address with "Lucille," his guitar.
Ferris's speech was intertwined with a slide performance and music, all of which is captured on the accompanying video produced by Mark Haynes (owner of clarksvilleonline.com) with this article.
The only way you can truly appreciate the anecdotes and insights of Bill's experience with Robert Penn Warren and others is to watch the video which I encourage you to do right now.
Photo Gallery
About Sue Freeman Culverhouse
Sue Freeman Culverhouse has been a freelance writer for the past 36 years. Beginning in 1976, she published magazines articles in Americana, Historic Preservation, American Horticulturist, Flower and Garden, The Albemarle Magazine, and many others. Sue is the winner of two Virginia Press Awards in writing.

She moved to Springfield, Tennessee in 2003 with her sculptor husband, Bill a retired attorney. Sue has one daughter,  Susan Leigh Miller who teaches poetry and creative writing at Rutgers University.

Sue teaches music and writing at Watauga Elementary School in Ridgetop, Tennessee to approximately 500 students in kindergarten through fifth grade. She also publishes a literary magazine each year; all work in the magazine is written and illustrated by the students.

Sue writes "Uncommon Sense," a column in the Robertson County Times, which also appears on Clarksville Online. She is the author of "Seven keys to a sucessful life", which is  available on amazon.com and pubishamerica.com; this is a self-help book for all ages.

Web Site: http://culverhouseart.com/
Email: cuverhouse@comcast.net
Sections
Arts and Leisure
Topics
APSU Center for Excellence for the Creative Arts, B. B. King, Cannes Film Festival, Center for Southern Folklore, Center for the Study of the American South, Clarksville Arts and Heritage Council, Clarksville Writers' Conference 2011, Encyclopedia of Southern Culture, Eudora Welty, Faulkner and Yoknapatawpha Conference, National Endowment for the Humanities, Old Miss, Oxford Conference for the Book, President Bill Clinton, Robert Penn Warren, The Color Purple, University of Mississippi at Oxford, University of North Carolina at Chapel Hill, William R. Ferris, Woodrow Wilson International Center for Scholars, Yale University