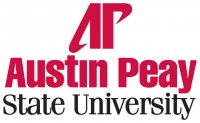 Clarksville, TN – Dustin Owen didn't spend much time outside as a child. While other boys stomped through creeks chasing lizards and frogs, he stared out the window of his parents' Indiana home, wishing away the severe allergies that kept him trapped indoors.

As he slowly grew out of his allergies, allowing a 10-year-old Owen to finally venture outside, he decided to make up for lost time. He threw himself into the wild, tracking down turtles and snakes and other creatures his mother appreciated but didn't particularly care for.

This fascination with the natural world never left him, prompting Owen to travel south to Tennessee last year to conduct fieldwork as a graduate student with the APSU Center of Excellence for Field Biology.

"The Center of Excellence for Field Biology is what drew me to Austin Peay," he said. "I saw the (Sundquist) building, met all the faculty and I thought this is exactly the kind of place I want to be."

The Center has allowed him to grow as a scientist, and earlier this spring, Owen was awarded a prestigious National Science Foundation Graduate Research Fellowship. According to the NSF, "The program recognizes and supports outstanding graduate students in NSF-supported science, technology, engineering, and mathematics disciplines who are pursuing research-based master's and doctoral degrees at accredited U.S. institutions.

"Fellows benefit from a three-year annual stipend of $32,000, along with a $12,000 cost of education allowance for tuition and fees (paid to the institution), opportunities for international research and professional development, and the freedom to conduct their own research at any accredited U.S. institution of graduate education they choose."

As an NSF fellow, Owen will be able to expand the important fieldwork he is currently undertaking at APSU. His research focuses on how environmental disturbances impact stress physiology in bats and snakes.

"What I do is look at their stress hormone levels, and I can tell how stressed one group is compared to another," he said. "With the bats, I'm looking at bats captured in harvested forests versus bats in natural forests, and seeing if the bats in the harvested forests are more stressed out or sick, and I'm doing the same thing with snakes in burned and unburned forests. If you're more stressed out, you're more prone to diseases, you're more prone to all sorts of bad things."

With the fellowship, Owen plans to broaden his research by visiting Florida to study stress physiology in pythons and other invasive reptiles. And, the NSF award will help him when he graduates from APSU.

"Another cool thing about the NSF is it'll go with you, so I've looked at a couple of universities," he said. "Now that I've become essentially a free graduate student, it really helps out. Some of the more elite grad schools I was looking at are suddenly within grasp."

For more information, contact the APSU Center of Excellence for Field Biology at fieldbiology@apsu.edu.



Sections
Education
Topics
Allergy, APSU, APSU Center of Excellence for Field biology, APSU Sundquist Science Building, Austin Peay State University, Clarksville TN, Dustin Owen, Florida, Indiana, National Science Foundation, National Science Foundation Graduate Research Fellowship, NSF, Tennessee