All too often the news is filled with negative images and information about what goes on in our city and county. Often that dark news seems to focus on our students and young adults. For the next few days I will be sending information on a group of Clarksville High School students and parents that are off on a great adventure to represent our city and county and to raise money for two causes.
These young adults are members of the Clarksville High School H.O.P.E (Helping Other People Everyday) club. The causes they are raising money for are the Lance Armstrong Foundation and the Catie Summers Memorial Scholarship.
The method by which they are raising money and bringing notice to these causes is by riding bikes from Tennessee to the Lance Armstrong Foundation headquarters in Austin Texas – a trip of almost 1200 miles, which they will do in about six days.
If you have missed it, they are working and pedaling to Texas to bring attention and money to a disease that affects too many of us, cancer. The Lance Armstrong Foundation focuses on a national program of cancer prevention, access to screening and care, quality of life for cancer survivors, and investment in cancer research.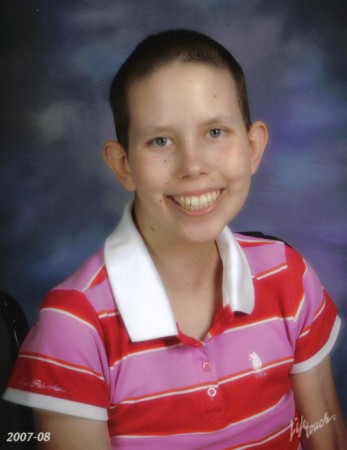 The Catie Summers Memorial Scholarship fund was established after the death of my own 16 year old daughter who died this past December after an almost four year battle against bone cancer. My daughter loved school and was a straight "A" student and in her honor a scholarship, in her name, will be given to students that have battled cancer in their young lives and want to go to college. First priority for scholarship awards will be cancer-surviving students graduating from the Clarksville-Montgomery County School System. The first award will be given to a student(s) in the 2009 graduating class, which is the year my Catie (at left) would have graduated.
The H.O.P.E club riders have been raising money for a couple of months and are still taking donations which can be delivered to any U.S. Bank branch in Clarksville, in the name of the Armstrong/Summers Fund. The fund will be split equally between the two causes.
I normally do not send this type of information by itself. However, I hope you will excuse me for doing this as it hits on several areas that I have devoted much time to in the last 14 years since I moved to Clarksville. I have performed thousands of hours of volunteer time to the school system, I do engineering and technology contract work for the school system, I'm a city councilman and the father of the daughter that never gave up and provided me with a definition of bravery that few can match. Thus, these great kids from the CHS H.O.P.E club come from, represent and touch those things in life I hold dear.
I hope to get end of day reports from them each day along with a picture or two which I will sent to you. Their bike jerseys, car signs and their grit and determination represent the qualities of our youth and city that all need to see and hear about. This afternoon the team packed, loaded their gear and drove to Columbia Tennessee. They will start their ride on the Natchez Trace Parkway at 6am Thursday morning heading to Austin Texas. Viva Lance Armstrong. Viva Catie. Viva CHS H.O.P.E club. Viva Clarksville
Editor's Note: This article was submitted by Bill Summers, Catie's father, who is a City Councilor serving Ward 10 in the City of Clarksville.