Downtown Kiwanis Club and Lone Star Rodeo Tour bring two days of excitement to Fairgrounds Park.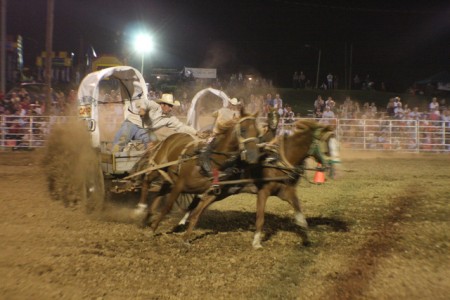 This weekend brought two days of rodeo excitement to Clarksville at the Fairgrounds Park. Friday was the opening night and Wendy's Restaurants sponsored it's Kids Night at the Rodeo.
Glenn Childers, 2008 Downtown Kiwanis Club Chair, gave a brief rundown of this year's rodeo, adding that the Kiwanis Club, with its 128 members, are proud that this was their 24th year bringing the rodeo to the Clarksville community. This rodeo was a very family-oriented and family-friendly happening, with the proceeds the Downtown Kiwanis Club raise dedicated to aid children and youth programs.
The pageantry of rodeo is colorful, dramatic, patriotic and exciting. Mark North, rodeo announcer, does an excellent job of informing the crowd of what is going on in the arena and encouraging everyone's participation and appreciation for the athletes' performances on display, both human and animal. Livestock takes on an entirely new meaning when 3,000 pounds of bucking steer animal is in your face !
There are chuck wagon races, Children's "Lost Shoe Match Up" competitions, "Gold in the Haystack" searches for the younger set as well as the grown-ups. Trick riding, rodeo clowns, shooting demonstration are all part of the rodeo show.
The rodeo, though, at its most basic, is about the true life western cowboy skills of herding cattle, developed by those early cattle herders. Those men were mostly former Buffalo Soldiers and freed slaves from South seeking to better their lives and put distance between themselves and their past lives of bondage. Popularized in the late 19th century with Wild West shows, these rodeo skills, which now recognize the skills of women as well, have come to be known as calf roping, steer wrestling, barrel racing, team roping, breakaway roping, saddle bronc roping, bareback roping and bull riding. All of these skill sets are on display and vetted nightly at the Clarksville Rodeo.
Food vendors offered cotton candy, funnel cakes, nachos snow cones, popcorn, and hot dogs. Wayne Abrams, barbecue specialist extraordinaire worked his 'Applewood Magic,' with Bubba's Tennessee Smokers creating barbecue sandwiches, and Wendy's Frosties to cool the fire from all that barbecue. Tastebuds were bound to be sated. Six lanes of inflatable slides and jumping castle in Kids Playland Adrenolin Rush II, sponsored by the F&M Bank, was a real bargain at five dollars per child for unlimited playtime.
Business sponsor Joe Heitz Toyata hosted a static display of Tacoma and Tundra V-8 trucks. Thompson Equipment had a static display of CAT machinery on hand, allowing youngsters to have a picture taken in the cab of the big rig. Bikers Who Care conducted ticket sales for their motorbike give-a-way. Raffle tickets were five dollars for the chance to win a Harley Davidson Sportster 1200 beauty. During the rodeo, five tickets were only $20.00. Proceeds benefit Camp Rainbow, Buddy Ball and other children charities. Bill Roberts' Thunder Road had a static display of pleasure boats for viewing.
Other attractions included a petting zoo and pony ride, the livestock pens. Lindsey Haliburton is on hand, signing personal portraits and circles the corral in the Joe Heitz Chuck Wagon. The Clarksville Police Department Mounted Patrol are also to be seen. The local business community support of this event is impressive: local banks, storage operations, construction, veterinary care, certified accountants, auto repair to car sales, pleasure watercraft sales, radio media, web design, printers, lodging, livestock, restaurants of all genre, lawyers and law firms, concrete products,commercial real estate, architectural firms, communications and insurance firms — virtually every sector of the local business community was involved in some way with this rodeo.
Some of the results of Friday night include: Bareback Riding, sponsored by Legends Bank, won by Zach Holston; Saddle Bronc Riding, sponsored by Joe Heitz Toyota, won by Peter Fowlkes; Barrel Racing, sponsored by Budweiser, won by Jessica Moore; and Breakaway Roping, sponsored by Grandpas, won by Julie Ennis.
For the uninitiated, it was a chance to get acquainted with the real living tradition of the American West. Cowboys, Cowgirls, horses and cows — "That's American!"