Montgomery, Cheatham and Houston Counties Tuesday night  gave Atty. Tim Barnes a resounding 2-1 vote of confidence over incumbent Senator Rosalind Kurita for the 22nd District seat. Kurita waged a strong write-in campaign but could not recreate the marginal win that was hers in the primary race. Barnes garnered 27,958 to Kurita's 15,693, an impressive write-in tally.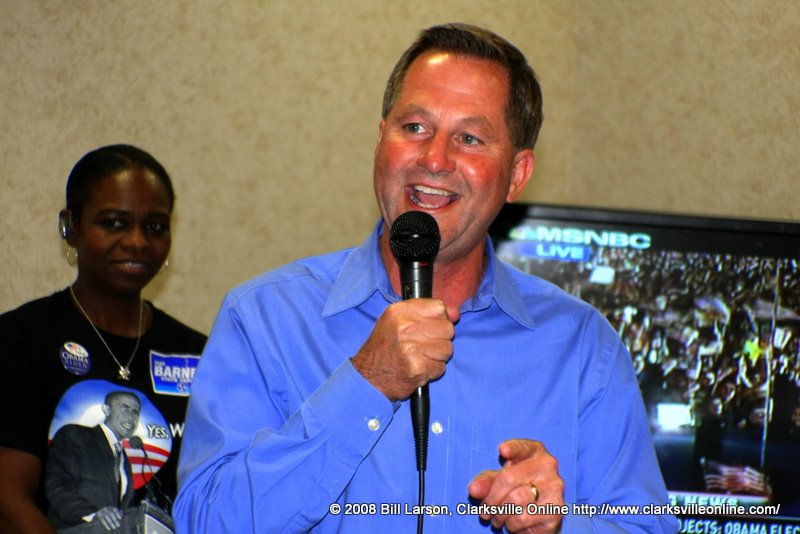 In the primary, Kurita topped Barnes by 19 votes, and that contested race was overthrown by the State Democratic Executive Committee, which in turn passed the choice of nominee to the local Democratic committees. Barnes became the Democratic nominee in a 61-4 vote.
In Cheatham County, Barnes gathered 7,113 to Kurita's 6,097. Houston County tallied 1,907 to Kurita's 1,079.
The total tri-county count was 36,978 to 22, 869 to elect Barnes as the new state senator.
Barnes joined a gathering of family, friends, and campaigners at the Riverview Inn in downtown Clarksville, where he waited for the number to trickle in.  State Representative Joe Pitts said he was "pleased and proud" to see Barnes win the senate seat.
"Tim has a heart for people. He is a man of his word and has always put people first. This will be anexciting time for the people of Montgomery County."