The greatest basketball player in Austin Peay State University history finally will have his jersey retired.
James "Fly" Williams, one of the legendary players in Ohio Valley Conference history whose early 1970s flamboyant style literally was responsible for packing gymnasiums almost everywhere he played, will see his jersey retired this Thursday at halftime of the Austin Peay-UT Martin game. The 8 p.m. contest will be televised by ESPNU.
Williams starred at Austin Peay during the 1972-73 and 1973-74 seasons, literally helping put the Governors basketball program on the map. He helped lead the Governors to a 22-7 record in 1972-73 and APSU's first-ever Division I NCAA tournament appearance that included a 77-75 win against Jacksonville and a controversial 106-100 overtime loss to Kentucky.
Williams averaged 29.5 points per game as a freshman, twice scoring a school-record 51 points along the way. His 29.5 average stood as the NCAA freshmen mark until Louisiana State's Chris Jackson broke the record in 1988-89 with a 30.2 ppg average—Williams mark still ranks No. 1 for players without benefit of the three-point arc. Williams' single-season 854 points are the most in APSU history and second most in OVC annals.
Williams' flair not only helped pack Austin Peay's "Little Red Barn," but opposing arenas as well around the OVC—he literally was a show unto himself. The 6-5 New York native brought his colorful style and street smarts to Clarksville. Fans lined up for more than five hours just to get tickets to a game in the cramped "Little Red Barn."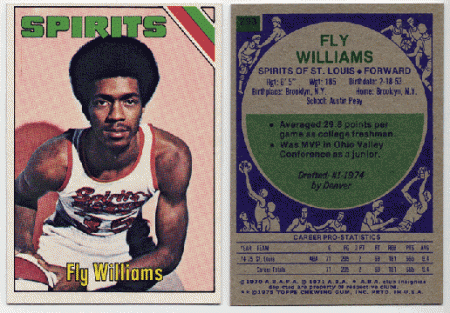 As a freshman, Williams, who finished fifth in the nation in scoring, was named to the National Association of Basketball Writers 1972-73 All-America team. He also was chosen Universal Sports Second-Team All-America and the Universal Sports Freshman of the Year. He was named honorable mention All-America by both United Press International (UPI) and Basketball Weekly.
As a sophomore, Williams averaged a team-best 27.5 points per game and 10.9 rebounds in leading APSU back to the NCAA tournament, a first-round loss to Notre Dame.  In addition to being the OVC Player of the Year, Williams was named Citizen Savings Athletic Foundation All-America; Street & Smith's Basketball Yearbook All-America; Universal Sports First-Team All-America; Popular Sports Second-Team All-America; Converse Rubber Company Second-Team All-America and UPI Third-Team All-America.
Along the way, Williams recorded 24 double-doubles in just 55 games. Williams left Austin Peay holding eight Austin Peay records and four OVC marks. He also was named to 10 All-America teams (first, second or third team).
But statistics and awards certainly don't even remotely reflect his impact at Austin Peay. The Governors and Williams' presence during that era saw the basketball program out-grow The Little Red Barn, resulting in the Winfield Dunn Center being built.
Williams' career at Austin Peay came to an abrupt halt after the Ohio Valley Conference investigated entrance requirements of student-athletes at its member schools. In 1972-73 the OVC had accepted ACT (American College Test) test scores, not the required SAT (Scholastic Assessment Test). It was determined by then-OVC Commissioner Art Guepe the OVC had misinterpreted the rule regarding entrance requirements. Williams was among several athletes who were declared ineligible.
As a result, Williams left Austin Peay. He could have transferred to another school but he already had been debating on whether to apply for hardship entry in the American Basketball Association (ABA) draft.  He chose to go the professional basketball route.
Williams, who earned his nickname because of colorful wardrobe in addition to his ostentatious playing style, was inducted into the APSU Athletics Hall of Fame in 1980-81.
However, when Williams elected to turn professional, it also meant the end of his college experience and education, which until now was the reason his uniform jersey was not retired.
In fact, in 1979 the Athletic Committee passed a recommendation to then-President Robert O. Riggs relative to jersey retirements. Those stipulations were:
The student-athlete must excel in his/her particular sport as recognized by some outstanding accomplishment.
The student-athlete must graduate from APSU or from another college or university or be an exceptional case to qualify for retirement of jersey.
The student-athlete must be recommended to the Athletics Committee by the Athletics Director.
Williams' case for jersey retirement, however, was brought to the athletic committee by APSU Athletics Director Dave Loos for consideration. The current athletic committee, chaired by Dr. Bruce Myers, considered Williams situation to be an "exceptional case" as stipulated in No. 2. His jersey retirement was brought to discussion and a vote.
APSU's current athletic committee is comprised by the following: Myers, Department of Computer Science and Information Technology, Department Chair; Don Dailey, Biology, Department Chair; Loretta Griffy, Mathematics; Steve Hamilton, Center of Excellence for Field Biology, Director; Allyn Smith, Physics and Astronomy, Department Chair;  Don Luck, School of Education; Michael Becraft, Assistant Vice President for Academic Affairs; Sue Fort, Assistant Director of Housing; Sheila Bryant, Director of Affirmative Action; Cheryl Holt, Senior Woman Administrator, Athletics (ex officio) and Dave Loos, Director of Athletics (ex officio).
A display, highlighting Williams' career, will be uncovered Thursday afternoon in the Dunn Center front lobby. Williams then will be honored at halftime of Thursday's game and will be joined on the floor by several members of the 1972-73 and 1973-74 teams for the unveiling of the jersey disk at the north end of Dave Aaron Arena.