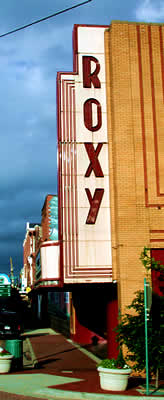 The Roxy Regional Theatre will be holding a special free preview performance of ALL QUIET ON THE WESTERN FRONT for soldiers and veterans on Thursday, March 19, at 7pm.  Soldiers and veterans, and their guests, are invited to attend this special performance.
Please contact the Roxy Regional Theatre at (931)645-7699 during box office hours (9am-2pm, weekdays) to reserve seats.  This offer is on a first-come, first-served basis and is only valid for the Thursday, March 19, 7pm performance.
Friday, March 20, is our usual pay-what-you-can preview.  Tickets go on sale at 7:30pm for whatever you want to pay.  Performance is at 8pm.
Saturday, March 21, is our official opening of ALL QUIET ON THE WESTERN FRONT.  As you know, we have received a grant from the National Endowment for the Arts.  This is a great accolade for us, as NEA Chairman Dana Gioia said, "We often hear from our grantees that the NEA's grant support has a catalytic effect, helping the organization to exponentially garner additional funding for its project. These grants are an investment in our nation's culture, and I'm proud to say that the return on that investment benefits Americans from coast to coast.'"
And, for me personally, it is an achievement beyond words, and it would mean a great deal to me to have the Saturday, March 21, performance sold out.  To that end, I ask you to come yourselves and to bring a group with you.  We will have a small reception afterward with the actors.
In these troubling economic times, the more people who can see a show early in its run and can spread via email and word of mouth of its importance in the community, the better it is for us here at the Roxy.  Do what you can to make this happen.