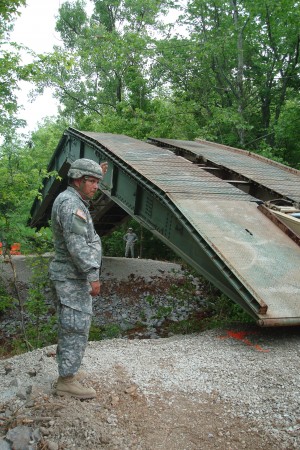 FORT CAMPBELL – The Tennessee Army National Guard out of Russellville and Jefferson City, Tenn., swung through Camp Shelby, Miss., this week to pick up 48 tons of cargo to help Fort Campbell cross the water.
Soldiers with the 190th Engineer Company, 230th Engineer Battalion, 194th Engineer Brigade, arrived Wednesday ready to lay 18 tons of steel across a creek at the Killebrew detour off Angels Road today.
The temporary bridge can hold up to 60 tons, although the weight limit is 20 tons for safety reasons. There will be no personal vehicles allowed to cross the bridge due to the wide-open center span.
The speed limit while crossing the bridge is 5 mph and all Soldiers besides the driver must dismount the vehicle prior to crossing. Every driver must have a ground guide to get them and the vehicle across the bridge safely
Regulation signs are in place specifying the rules for crossing the bridge, said Chris Collins, range branch contractor.
Other roads with damage include South Los Banos Road, Sukchon Road, Indian Mound Road, Rendezvous Road, Stampers Chapel Road, Artillery Road, Range 55 Wiercinski Way and the Craig Village Access Road. Jordan Springs Road around Hell Cat Trail and around Grant Road has buckled or damaged asphalt, blocking one lane of traffic.
The roads are marked where the bridges are out and they are blocked off where units are not allowed to travel. Units are advised to use extreme caution when traveling in the rear areas.
The effects of the intense storms hitting Fort Campbell remain on the range roads. Flood waters caused the roads to washout, some up to six feet deep.
"We got a call from the National Guard liaison at Fort Campbell saying they needed bridges and seeing if we could help," said Maj. John Kinton, officer in charge. "The Tennessee Adjutant General called and five days later, here we are."
At the location where the Soldiers laid the Armored Vehicle Launched Bridge, there has not been a bridge since 1994. Although there was a crossing through the creek, the storms caused it to buckle making it dangerous to traverse.
"The big thing we're all concerned about is safety," said Michael D. Mazuk, installation range program manager. "The Directorate of Public Works has to install a bypass and fix the roads along Angels Road and that is going to take some time."
The temporary bridge will remain in place until a contractor is hired to build a permanent bridge in its place.
"This was a quick fix," Collins said. "The Armored Vehicle Launched Bridge will be here until DPW can get Angels Road fixed, but keep in mind it's not for POVs."
DPW has not made any one road a priority over the others, but they are starting with primary roads such as Angels Road first.
"Fixing the roads is not a sequential thing, we're trying to do them all at the same time," said Judy Hudson, DPW director. "We just want to make sure all the roads are safe."