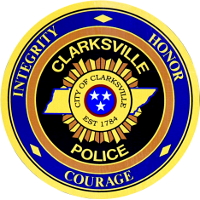 Crime is still happening and we in law enforcement are doing our best to make sure it happens as little as possible. That being said, we finally received our crime statistic numbers comparing us to other Tennessee cities with over 50,000 populations. Please understand this is not meant to portray other cities in a negative or positive light, but it does let you see how our numbers look using the data submitted to the Tennessee Bureau of Investigation, which uses standardized criteria for reporting. Wow, was that a mouth full? Okay, here goes: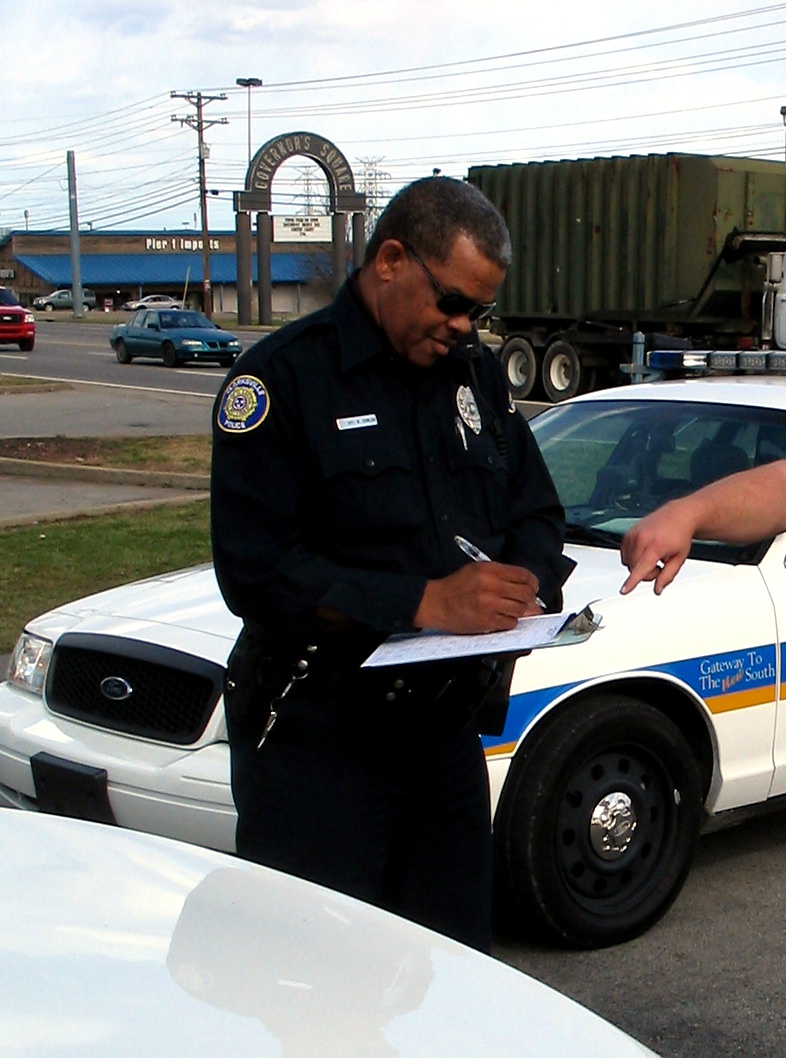 City
Population
Total Offenses
Crime Rate

(per 1000)

Clarksville
119,284
13,098.00
110
Johnson City
61,028
6,378.00
104
Jackson
63,196
11,987.00
185
Murfreesboro
98,408
11,033.00
112
Chattanooga
169,884
24,870.00
146
Knoxville
183,546
26,127.00
142
Nashville Metro
590,807
87,549.00
148
As you can see from the numbers, we did very well compared to other cities based on our crime rate per 1000 of population; Johnson City was the only city who had a lower rate. If you are having a sleepless night and need something to put you to sleep, you can read the report for the break down and different categories considered in the stats.
We are working hard to do even better in 2009, but we need citizens' help to make that happen. As of the beginning of June, the city's reportable crimes are less than 2008's. One of the crimes which continue to plague us is vehicle burglaries. We are still giving burglars freebies. We have had about 408 vehicle burglaries so far in 2009; 226 of those have been to unlocked vehicles. We often hear, "They'll break my window if I leave it unlocked". Who am I to disagree? But, I would add, "Don't leave anything of value in your vehicle to entice anyone whether you choose to lock it or not".
National Police Week
In 1962, President John F. Kennedy signed a Public Law that set aside May 15 as National Peace Officers Memorial Day. It is meant to honor and remember those in law enforcement that have made the ultimate sacrifice. Five Clarksville Officers and one K-9 have made that ultimate sacrifice in the line of duty. The last time Clarksville lost officers in the line of duty was June 7, 2002—David Scott and Yamil Santiago-Baez. Clarksville Police Department hosted The Peace Officers Memorial Day service for the area's local law enforcement. There was a special presentation given to Chief Ansley at this year's ceremony. Officers working in conjunction with some local businesses refurbished Officer David Scott's rifle which was severely damaged. The rifle was encased and is on display at the Police Department to serve as an eternal reminder to present and future officers of the potential perils of the job we do and the sacrifices that some have made.
Fitness Vs Donuts
There probably aren't many of us that haven't heard a cop and donut joke. I have often said that if there was ever a robbery of a donut shop that I would park my car and run to it rather than take the chance of my patrol car ending up on the front page of the local paper in front of the donut shop. That being said, Chief Ansley is doing his part to dispel that type of image and is promoting fitness within the Police Department. This is the second year of the department's voluntary fitness assessment program and it seems to be showing positive results.
The assessment is based on a national standard developed by the Cooper Institute. There were over 30,000 participants, from all vocations in life, to develop age and gender based standards; there are four timed tests used: 1 ½ mile run, sit-ups, push-ups, and a 300 meter run. Each test is performed consecutively, to a strict standard, and a certain percentile rating must be achieved on each to pass the assessment.
There were two percentile categories selected-55th for passing and the 90th for an elite category. What this means is that based on the Cooper Institute standards that officers would be in as good or better shape than 55 or 90 percent of the general population. In 2008, out of 39 participating, 11 achieved the passing standard and one achieved the elite category. We just completed this year's assessment with 38 testing. Out of those 38, 26 achieved the passing standard and four achieved the elite category. What adds to the achievement is that the test had to be performed in the officer's off-duty time and waivers had to be signed in case of injury. Each officer that passed the assessment is awarded a distinctive fitness pin which is worn on the uniform above their name tag. The officer must successfully pass the assessment each year to continue wearing the fitness pin. I also must mention that Chief Ansley doesn't just talk fitness; he is a participant (sounds like a hair care for men ad doesn't it). If you notice he is sporting one of the fitness pins on his uniform. Additionally, James Lewis, council member and Reserve Police Officer took time to take the test and successfully passed. If you see an officer wearing a fitness pin, congratulate them. Believe me, the test is by no means a give-me.
Red-light cameras alive and definitely operating

The red light cameras went "test operational" on May 1. The test period ran until midnight on May 31st. If we learned nothing else, we now can be assured that red lights are run in Clarksville. There were approximately 3500 red light violations during the test period, averaging between 110 and 116 violations a day. For all intents and purposes, these were freebies, despite notices being sent to all violators; there was no monetary charge associated with the violation. That all changed on June 1st. If you run a red light, you will receive a Notice of Violation (civil citation) which will cost you $50.00. There are exceptions built into the contract (e.g. funeral procession, valid right on red and so forth), but they are very limited.
Oh by the way, government vehicles are not automatically exempt, so if you are in a government vehicle, the violation will be sent to your Department head to be dealt with. There has to be some sort of disposition on each and every citation. You also have an option to have your case heard by a judge, but if you are found "liable" (guilty), then you will have to pay $135.75. Also, it would not be wise to ignore the citation. If there is not some sort of disposition to the citation within 45 days, it is turned over to a collection agency.
To give you a little heads-up, if you don't already know, the operational red light cameras are at: Wilma Rudolph/Trenton Rd, Wilma Rudolph/I-24, Ft Campbell Blvd/Gate 3, 101st Pkwy/Whitfield Rd. There are 3 more intersections approved for red light cameras and will soon be installed: Madison Street/76 Connector, Ft Campbell Blvd/Tiny Town Rd, and Wilma Rudolph/Dunbar Cave Rd. The new cameras will not have a "freebie" period; they will be live from Day 1.
Explorer program flourishes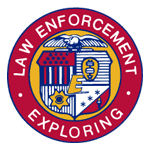 There are many community programs which the Police Department either sponsors or is involved in, but it doesn't make headlines or gain much attention. Nonetheless, they are important and provide a positive influence on the youth in our community. The Explorer Program geared toward young people (ages 14 through 20), who have made a commitment to doing something that may or may not be cool in today"s society.
They all have made a decision to show an interest in Law Enforcement. This decision is one that is not made lightly or carelessly but, shows a selflessness to give back to their community and its citizens. Sure, some would say "What does a 14 year old know about commitment or selflessness?" Officer Booker Dailey and the 5 other Advisors see the dedication of these young people. If you could see how these young people get involved in the training, or how much energy they expend in the role playing exercises you would be amazed at the professionalism and dedication each displays. The concept of a specific task is taught and then each Explorer is required to perform the task to standard-corrections are made (if necessary) and then the group moves on to another task.
The group of high school students meets twice a month at the Clarksville Police Department Substation, located in the Orchard Park Apartment Complex, Phase II, Bldg 16, and 376 S. Lancaster Rd. The apartment complex is directly across the street from Northwest High School, 800 Lafayette Rd. The meetings are held on the first and third Monday of each month, starting at 6:00pm and ending at 8:00pm.
Classes are taught by the Advisors and/or Guest speakers, centering on the types of "Calls for Service" each patrol officer is required to handle on a daily basis. Of course, these classes are basic in nature and are kept basic so that each Explorer is able to grasp the concept of the situation and each Explorer is given a scenario and the opportunity to actually "do" (hands-on application) the task. Questions are encouraged and time is taken to insure the task is understood prior to moving on to another task. The Explorer is required to utilize their own call sign and proper radio procedures, just as a patrol officer does when they are dispatched to a call. Communication skills (both with other officers and with Dispatch), officer safety, and techniques used are critical in the evaluation of how each Explorer performs his/her task.
The Explorer Program is designed to be a career-based hands-on program, and by its design, each young person is given as much hands-on training as possible. The program also emphasizes building self confidence, bearing, courage, leadership skills and character. Each of the Explorers is required to meet and maintain certain standards and failure to do so may be cause for termination. Each Explorer is required to be currently enrolled in or have graduated from high school; each is required to have and maintain a 2.5 (C+) grade point average; each must not have pending criminal charges or convictions; no previous or pending drug or alcohol charges; no more than two juvenile warning citations; no previous or pending serious traffic offences above a class c misdemeanor; and last but not least, each must not have a previous nor pending in or out of school suspensions.
More information on the Explorer program can be obtained by contacting Officer Booker Dailey, 931-648-0656, ext. 1011.
Operation Turnaround Olympics starts with the running of the torch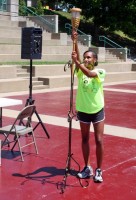 Clarksville Police Department's heavy community involvement continued with the inaugural Operation Turnaround Olympics which had opening festivities on June 5. A local area Dentist, Dr Stan Montee, and The Northeast High School Track team under the tutelage of Coach Brewer ran the Olympic Torch six miles to the opening ceremonies in McGregor Park. After the ceremonies, the Olympics' participants, family members, mentors, and Police officers socialized and enjoyed a barbeque together. The Olympic events kicked off on June 8 with fishing at the Fairgrounds and will continue until June 19 with a myriad of events such as: track and field, basketball, volleyball, bowling, cooking, swimming, and a trivia competition. The Olympics attracted over 250 participants from across the city and county. The activities will close on June 19 with the awards and closing banquet being held at a later date along with an awards ceremony for the young Olympians.
Student Traffic Awareness Training (S.T.A.T) class continues for 2009
We are continuing our proactive approach to reducing accidents involving teenagers, through awareness training for Clarksville/Montgomery County high schoolers with learner's permits. The class is more than a talking head standing in front of the class droning on and on at students until they fall asleep from boredom. There are guest speakers who talk about how accidents have affected their lives. The students also get to see photographic results of accidents, and some videos showing both humorous and tragic vehicle incidents. At the end of the class, the students don the impaired vision goggles to experience the effects of alcohol consumption without drinking a drop. We have graduated two classes so far this year and still have three classes remaining-August 22, Sept 26, and Oct. 10. The classes are held at 106 Public Square from 8 a.m. to noon. It is free of charge. Contact Misty Mackens, 931-648-0656, ext 2131 or Kaye Jones at 931-320-5762.
The Park Rangers have a new home and name
We welcome the officers, previously known as, Park Rangers, to the ranks of the Clarksville Police Department. On May 16, the roles and responsibilities and previously vested in the Park Rangers were transferred to the Police Department along with the manpower slots. The former Rangers had to go through the Police Department's entire testing process prior to be acceptance as officers with CPD. They passed all facets of testing with flying colors and have already started working. Officers Derrick Oliver, Michael Runyon-Davis and Harry Hampton will soon be starting an abbreviated Field Training Program before hitting the streets after trading in their Ranger uniforms for CPD Blue.
We give "Camp Sunshine" more business.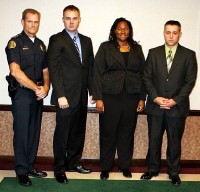 Three new officers, Matthew Adams, Christina Gilliard, and Dana Prins are currently enjoying the rigors and tasty gourmet food of the Tennessee Law Enforcement Training Academy. They will undoubtedly get some fun in the sun since they are attending from May 24 – July 31, 2009. After they complete the academy which provides them the academic knowledge, they will finish up some in-house training and complete 14 weeks of Field Training to provide them with the operational skills necessary to be a Police Officer.
New cars yield big savings
Last year, we changed the striping scheme to a more modern, up-to-date design to our 2008 Crown Victoria. In 2009, we have continued to modernize as well as economize (unintentional rhyme, but it works). We have recently purchased 21 new Chevy Impalas to replace some of the high mileage vehicles in our aging fleet. The Impalas are somewhere around $2,000 to $3,000 less expensive than the Crown Vics and get about 6 miles per gallon better gas mileage. That is a significant cost savings when you look at today's fuel costs. Money is tight everywhere and anywhere we can save a buck counts.
Seized vehicle turned into show car.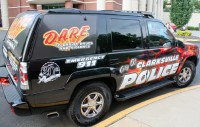 A Chevrolet Denali seized by the Major Crimes unit as part of a drug bust has been turned into a show car for the D.A.R.E program. It was formally unveiled at a ceremony at Police headquarters on May 26. It was a collaborative effort between the Clarksville Police Department, Citizen Police Academy Alumni, and local businesses to accomplish the makeover.
There can never be enough said about the quality of our people and the work they do, whether civilians or sworn officers. Each one has worked hard and the results have shown in the crime statistics from 2008. But, we have also been striving to integrate ourselves into the community and create a more community oriented policing environment. Programs such as Operation Turnaround, The S.T.A.T class, and Explorer programs bring us closer to the community which we serve; we are not only Police Officers, but members of the Clarksville community.