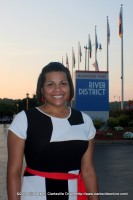 There seems to be a statement made in the Leaf Chronicle about me saying $81,000 is not a significant amount of money. I personally feel it was taken out of the context in which I intended it to be. Here is the reality of the statement I made.
The Ward 2 city councilwoman Deanna McLaughlin said that the purpose of her beer ordinance was so that we can create a new revenue stream and to ease the burden for those who want to buy beer before the Titans game or going fishing. I feel there may have been selfish motives behind this ordinance, and so did not buy into the "creating additional stream of revenue response." So I made the statement that $81,000 was not a significant amount of money to be proposing this ordinance in regards to a city budget of  $71 million. To me personally it is a large amount of money; however I did not base this on my personal finances, I was looking at the city's finances.
If people will remember $81,000 is around what it cost to fix the lighting for one park and for other parks it's even more than that. I am not opposed to bringing additional revenue into the city, however this was not an appropriate way to do so.
The fundamental issue is about having a reverence and respect for Sunday which is observed nationwide as a special day, religious or not. I will not compromise on this, and respect what the majority of what my constituents asked me to do, and that is vote "no."
Thank you!
Candy Johnson