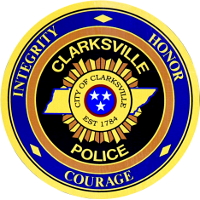 Two juveniles, 12 and 16 years of age, were charged on August 19, 2009 with crimes which were committed at the Tabernacle Church property on Market Street, August 16, 2009.  An investigation by Detective Kenny Bradley showed that the 16 year old used a lighter to set a fire inside of a closet in a building on Market Street.  It was determined that the fire was not set accidently and the damage to the building was over $200,000.  Furthermore, the same 16 year old and a 12 year old entered two trailer buildings on Market Street and caused about $2100 of damage to computers, books, and windows.  They caused the damage by using water and discharging a fire extinguisher all over the room. There was also two computer zip drives taken.
The 16 year old has been charged with Burglary and Arson and the 12 year old was charged with Burglary.
Additionally, when the 16 year old was charged with the crimes at the church, he was already in custody for a Burglary to a Ft Campbell Blvd business which he committed on August 18, 2009.
The 12 year  old was cited and released to a parent and the 16 year old is in a juvenile holding facility.