Junior Chelsea Harris shot a two-under par 70 in Monday's second round to sit in third place of the Troy Invitational, being played at the Troy Country Club.
Combined with her opening-round 78, Harris is at four-over 148, just three shots behind first-place leader Haley Lawrence, of host Troy, and two strokes behind Louisiana-Monroe's Angela Drane. The two-under 70 ranks as Harris' second-best career round.
Harris' second-round magic keyed a Lady Govs comeback that saw APSU shoot an afternoon round 302 after a disappointing 321 morning 18. As a result, the Lady Govs sit in sixth place at 623, just three shots behind fifth-place South Alabama and just six behind Ohio Valley Conference rival Jacksonville State (301-316=617). The Lady Govs 302 ranked as the day's third best round.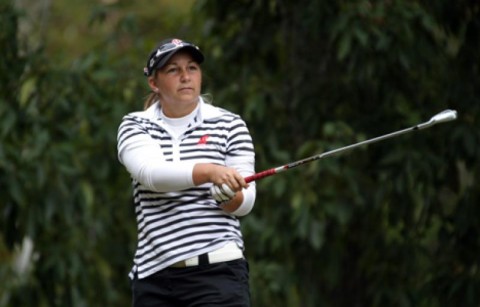 Louisiana-Monroe leads the way with a 607, followed by Troy at 609.
In addition to Harris, APSU got a strong performance from junior Ashley Wathen, who fired an 80-76 for a two-round 156 (tied for 18th).
Senior Staci Lynch is two strokes back at 158 (81-77), tying her for 21st, while senior Angelina Manzitto (83-79) and freshman Catherine Smith (82-80) are tied for 31st at 162.
Junior Catie Tucker, playing as an individual, shot a 164 (82-82), tying her for 35th.
The teams played 36 holes Monday on the par-72, 6,100-yard course and will close out the tourney Tuesday with 18 holes. Both days begin with an 8:30 a.m. shotgun start.
The 10-team tournament will includes Ohio Valley Conference rivals Tennessee State and Jacksonville State.
"The key to us playing well this week is to come out with great attitudes, stay focus on the shot at hand and to stay in the present," said APSU head coach Sara Robson. "We have to realize we can't control the past or the future while we are on the golf course; all we can worry about is the shot we are approaching. If we do this our talent will allow us to play well."