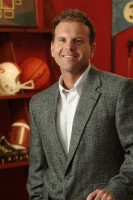 A noted sports psychologist and faculty member at Austin Peay State University now has the sixth national best-selling nonfiction book, according to The Washington Post.
Dr. Gregg Steinberg, an associate professor of health and human performance, is the author of "Full Throttle: 122 Strategies to Supercharge Your Performance at Work," which made the national newspaper's best-sellers list for the first time.
The book, released last summer, discusses how to build emotional toughness for business and life through entertaining and informative stories.
The Washington Post rankings published Jan. 24, 2010, reflect sales for the week ending Jan. 17, 2010.
For a complete list, visit
http://www.washingtonpost.com/wp-dyn/content/article/2010/01/22/AR2010012204417.html.
In addition to "Full Throttle," Steinberg, 46, is the author of two other books, "Mental Rules for Golf" and "Flying Lessons."
He also is a frequent media personality on national television networks such as CNN and the Golf Channel to speak about the mindset of an athletic champion. In October 2008, he appeared on ABC's hit competition show, "Dancing With the Stars," to analyze the mental toughness of the remaining contestants.
Steinberg, a faculty member at APSU for nearly 12 years, provided analytical commentary for Fox News during the 2008 Summer Olympics, especially on the performance of U.S. swimmer Michael Phelps, who went a perfect 8-for-8 in Beijing to break Mark Spitz's single-Olympic Games record for gold medals.
He also has written a newspaper column, "The Head Coach," for The Tennessean newspaper in Nashville and continues to publish extensively in academic journals.
A sports psychology consultant for more than 10 years, Steinberg has worked with many professional and college athletes, including teams at Vanderbilt University, APSU, Belmont University, Tennessee State University and the University of Florida.
A native of Los Angeles, Steinberg earned his bachelor's degree in psychology from the University of California at Santa Barbara, master's in education psychology from Florida State University and doctorate in human performance from the University of Florida.