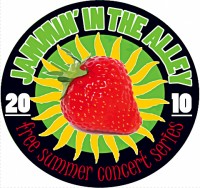 The City of Clarksville Department of Parks & Recreation kicked off the 2010 Jammin' in the Alley Concert Series last night with a concert by McAllister's Crossroads. The band consists of Donald Greene- Vocals, Guitar; Randy Suggs- Vocals, Drums; Jim Meek- Vocals, Bass; Matt Jones- Vocals, Guitar; Jason Runyon- Vocals, Guitar.
Around 100 people turned out for the early evening concert, and all age groups were represented in the crowd. The band played a mix of popular tunes from various bands. Their music had the audience dancing, and for the more reserved tapping their hands and feet in time with the beat.
The concert was about half way through when it began to lightly sprinkle which turned into a heavy downpour a short time later. The Parks and Rec Department intended to continue the concert after it stopped raining by drying out the stage with backpack mounted blowers. However when the rain stopped, it resumed even heavier a few minutes later. So the concert was finally called off.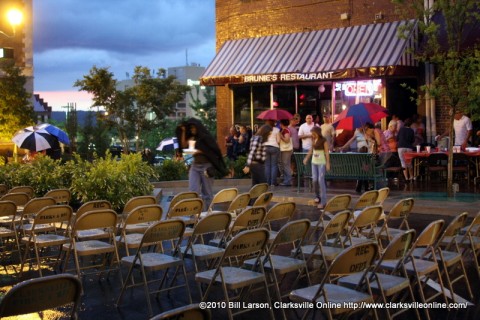 Photo Gallery