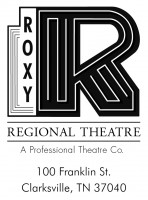 I have been impressed by the Roxy Regional Theatre's performances many times in the past, however they have exceeded all of my expectations with their latest production; Stephen Sondheim's Into the Woods. It is one of their best shows yet!
This musical play merges the plots of several Brothers Grimm fairy tales by adding a new story line involving a baker and his wife who are unable to have a child, and their troubles with a neighbor. It then follows the characters to see what results when the their wishes are granted. Will it be happily ever after, or will it end up being their worst nightmare.
The main characters of Into the Woods were taken from the stories of Little Red Riding Hood, Jack and the Beanstalk, Rapunzel, and Cinderella. References are made to other favorite fairy tales as well.
The plot is laid down by the Mysterious Man (Ted Jones), a Narrator who stands somewhat apart from the story, which is similar to the 1972 Broadway Musical Pippin.
Actors either love or hate Stephen Sondheim; with his challenging compositions, intricate lyrics, and brutal harmonies. In the Roxy performance, you could hear that classic Sondheim sound as soon as the actors started singing until the last number was finished. That is not always the case.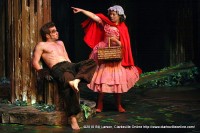 The costumes and sets used in the Roxy production of this show were fantastic, in my opinion they were even better than the sets and costuming in the 1991 Stage version of this musical which was filmed for sale on DVD. I love multi-level Stages and through the use of ramps they were able to add other dimensions to the stage.
The cast was superb from the Dapper Mysterious Man, The baker (Ryan Bowie), the beautiful trio of strong female characters that every young girl would want to emulate (Kera Halbersleben, Rachael Fogle, and Heather Strickland-Dispensa), The handsome princes (John Moser and Josh Bernaski), to the the very strong supporting cast.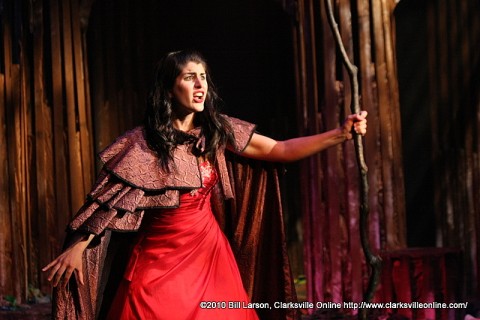 Their acting is so good when the first act concluded I thought the play was finished, only to find out that we had another full act to go. I must admit, I wasn't upset in the least!
Go see this wonderful show, it will be running through August 28th. But get your tickets in advance as they are likely to sell out. Tickets are $20.00 for adults, and $15.00 for ages 13 and under. For show times and tickets you can call 931-645-7699 or visit them on the web at http://www.roxyregionaltheatre.org.
The Roxy Regional Theatre is located at 100 Franklin Street in Historic Downtown Clarksville Tennessee.
Photo Gallery
Musical Numbers
Act I
| | |
| --- | --- |
| "Act I Opening" | Company |
| "Cinderella at the Grave" | Narrator, Cinderella, Cinderella's Mother |
| "Hello, Little Girl" | Wolf, Little Red Ridinghood |
| "I Guess This Is Goodbye" | Jack |
| "Maybe They're Magic" | Baker's Wife, Baker |
| "I Know Things Now" | Little Red Ridinghood |
| "A Very Nice Prince" | Cinderella, Baker's Wife |
| "First Midnight" | Company |
| "Giants in the Sky" | Jack |
| "Agony" | Cinderella's Prince, Rapunzel's Prince |
| "A Very Nice Prince Reprise" | Cinderella, Baker's Wife |
| "It Takes Two" | Baker, Baker's Wife |
| "Stay With Me" | Witch |
| "On the Steps of the Palace" | Cinderella |
| "Act I Finale" | Company |
| | |
Act II
"Act II Opening"
Company
"Agony Reprise"
Cinderella's Prince, Rapunzel's Prince
"Witch's Lament"
Witch
"Any Moment"
Cinderella's Prince, Baker's Wife
"Moments in the Woods"
Baker's Wife
"Your Fault"
Jack, Little Red Ridinghood, Baker, Witch, Cinderella
"Last Midnight"
Witch, Cinderella, Baker, Little Red Ridinghood
"No More"
Baker, Mysterious Man
"No One Is Alone, Part 1"
Cinderella, Little Red Ridinghood
"No One Is Alone, Part 2"
Cinderella, Baker, Jack, Little Red Ridinghood
"Act II Finale"
Company
This production is presented with one 10-minute intermission
The Cast
| | |
| --- | --- |
| Narrator | Ted Jones |
| Cinderella | Kera Halbersleben |
| Jack | Gregory Pember |
| Jack's Mother | Jackie Ostick |
| Milky-White | Jaymin Burr |
| Baker | Ryan Bowie |
| Baker's Wife | Heather Stricker-Dispensa |
| Cinderella's Stepmother | Lisa MacAfee |
| Florinda | Hannah Carmona |
| Lucinda | Kari Muller |
| Cinderella's Father | Bill Colclough |
| Little Red Ridinghood | Sarah Levine |
| Witch | Rachael Fogle |
| Cinderella's Mother | Hannah Church |
| Mysterious Man | Ted Jones |
| Wolf | Josh Bernaski |
| Granny | John McDonald |
| Rapunzel | Hannah Church |
| Rapunzel's Prince | John Moser |
| Cinderella's Prince | Josh Bernaski |
| Steward | Humberto Figueroa |
About Ted Jones
Ted Jones made his Roxy debut in 1987 as George in Sunday in the Park with George. Since then he has appeared on over two dozen Roxy productions, including the 1992 production of Into the Woods (Baker), A Little Night Music, Anything Goes, Sweeney Todd, Taming of the Shrew, The Boys Next Door, Triumph of Love, Forever Plaid, Romeo and Juliet, Titanic: The Musical and CATS. Most recently he appeared in Shakespeare's As You Like It and will be returning this fall for Around the World in Eighty Days. Thanks to Tom and John and this incredible cast for the chance to go into the woods with them again.
About Kera Halbersleben
Kera Halbersleben would like to thank Tom and John for the opportunity to leave the New York City heat for the summer in order to play this wonderful role at the Roxy. She originally moved to New York from Cincinnati, OH to earn her BFA in Drama from CAP21 at NYU's Tisch School of the Arts. Some favorite shows include Hello, Dolly! (Irene), Sunday in the Park with George (Dot/Marie), Side Show (Violet), Evita (Eva Peron), Once Upon a Mattress (Winifred), and Jerry Springer the Opera (Baby Jane). She cannot ever adequately express her appreciation and love for her most amazing family- Arrg!
About Gregory Pember
Gregory Pember is excited to be in "The Gateway to the New South", as it is quite a ways away from his hometown in Vancouver, Canada. In May he graduated with a B.F.A. in Musical Theatre from The Boston Conservatory where he played such roles as Romeo (Romeo & Juliet), Mark (Rent), Young Ben (Follies) and John Wilkes Booth (Assassins). Other professional credits include Rolf (The Sound of Music), Will Parker (Oklahoma!), Eugene (Grease) and Man 1 (I Love You, You're Perfect, Now Change). Thank you Mom, Dad and Bob for their unconditional love and support as well as Tom, John and Adam for this great opportunity.
About Jackie Ostick
Jackie Ostick is thrilled to make her Roxy debut. She just recently completed the national tour of Four Score and Seven Years Ago with the Artspower National Touring Theatre. Other credits include Matilda in All Shook Up and Joanie in The Full Monty, among others, at the Bucks County Playhouse. She also traveled in Pennsylvania with the Penn Shakes touring production of Much Ado About Nothing. Jackie proudly holds a BA in theatre from DeSales University and lives in New York City. Love and thanks to family and friends!
About Jaymin Burr

Jaymin Burr is fourteen and has been with the Roxy for six years. Past performance credits include Tiny Tim in A Christmas Carol, Fleance in Macbeth, Mowgli in The Jungle Book, the King in Disney's Cinderella Jr. and, most recently, the baker in Disney's Beauty and the Beast Jr.
About Ryan Bowie
Ryan Bowie is excited to be performing in Into the Woods, following his Roxy Regional Theatre debut this summer as Jinx in Forever Plaid. Living as a full time actor in New York City, he was last seen as Jesus in Godspell, and Hamilton in the NYC premier of Dotty Dot: A New Children's Musical. Other professional credits include, Freddy in My Fair Lady (Midwest), Jonas in The Giver (Chicago), Ryan in High School Musical (Midwest), Jack Chesney in Charlie's Aunt (Midwest), Dick in Dames at Sea (Maryland), J. Pierpont Finch in How to Succeed… (New York), and Matt in The Fantasticks (New York – tour). Training: Frostburg State University – BA Theatre: Acting & BA Music: Vocal Performance. After closing Into the Woods, Ryan goes on to choreograph a New York production of Carousel. Special thanks to Mom, Dad, Samantha, Travis, Freddy, Suki, Tom, John, Adam and this wonderful cast. Stay up to date at www.ryanbowie.com.
About Heather Stricker-Dispensa

Heather Stricker-Dispensa is originally from Tucson, AZ and now resides in New York with her husband Scott. Favorite credits include the national tours of Camelot and Forever Swing as well as regional productions of Ragtime, The Producers and Dirty Rotten Scoundrels. Heather traveled the country with Barry Manilow as a back-up singer in his Ultimate Manilow tour. She also had the pleasure of touring the country in 2008 as a USO girl, singing for service men, women and veterans. She now travels the world singing swing and jazz music with The Manhattan Dolls female vocal trio! (www.themanhattandolls.com) Visit Heather's website for more information at www.heatherdispensa.com Enjoy the show!
About Lisa MacAfee

Lisa MacAfee is so excited to be making her Roxy debut with Into the Woods. She graduated with a B.A. in Vocal Performance from Valparaiso University. Her recent credits include appearances in Titanic the Musical, Mame, The Magic Flute, On the Town and Assassins. She would like to thank her family, church family, and friends who have given so much love and support, as well as John, Tom, and Adam, and the amazing cast and crew for such a wonderful opportunity.
About Hannah Carmona
Hannah Carmona is currently a sophomore at Western Kentucky University with a major in musical theatre. She has recently been seen at the Roxy in RENT, CATS (Jemima), The Crucible (Mary Warren) and Rugrats (Opera Diva / Astoria), among many others. Other favorite roles include Thandi in Tokoloshe and Little Ti Moune in Once On This Island. She is very grateful to be back at the Roxy and wants to thank her parents and fiancé Vidal for all of their love and support. "You guys keep me going." www.hannahcarmona.com
About Kari Muller
Kari Muller is a sophomore at Northwest High School. Previous shows include: Aladdin Jr., High School Musical, The Crucible, Mulan Jr., Beauty and the Beast Jr., and Rugrats: The Musical. Kari is part of the Roxy's School of the Arts and is also a member of her school's show choir. She hopes to pursue a career in Musical Theatre.
About Bill Colclough
Bill Colclough is excited to be making his Roxy Regional Theatre debut with Into the Woods. He was most recently seen as Professor Higgins in My Fair Lady with the Houston County Community Theatre. Other past performance credits include: A Christmas Carol (Ghost of Christmas Present) with the Houston County Community Theatre; Last of the Red Hot Lovers (Barney), If The Shoes Fits (Marvin) and Christmas Seasonings (Martin) with the Cumberland Arts Centre; and The Clouds (Aristophanes) and The Bear (the butler) at Belmont University.
About Sarah Levine

Sarah Levine made her Roxy debut this spring in High School Musical 2, and is thrilled to be back playing one of her favorite roles in one of her favorite shows! New York: Off Broadway: Pinkalicious, The Musical (New World Stages), Off-Off Broadway: Clothes For a Summer Hotel (White Horse Theater), It Pays To Advertise (Metropolitan Playhouse), Sarah Wants The Moon (78th Street Theatre Lab), My New York (Vital Theatre Company). Favorite roles include Nellie in Jekyll And Hyde, Jenny in Quilters, The Homeless Woman in A New Brain. BA, Sarah Lawrence College. Love and thanks to Mom, Sam, and Eyal. www.sarahlevineonline.com
About Rachael Fogle

Rachael Fogle, a Pittsburgh native, is excited to be making her Roxy debut this summer. Past credits include national tours of Little Women (Windwood Producitions) and Junie B. Jones (Theatreworks USA). Other regional favorites include Anything Goes (Orchard Hill Pittsburgh Playhouse) and Copacabana (Dix Hills Performing Arts Center). Thanks to Tom and John for the opportunity, and the cast/crew at the Roxy for their diligent work. For Brian.
About Hannah Church
Hannah Church is a junior musical theatre major at Rockford College in Illinois. She is thrilled to be returning to the Roxy this summer for Into the Woods. Hannah has been seen on the Roxy stage in Beauty and the Beast and Bye Bye Birdie. Her favorite roles include "Anne" (Diary of Anne Frank), "Armanda" (The Glorious Ones), and "Margie" (Loose Knit). She would like to thank Tom and John so much for giving her this opportunity to grow in her work. It will be hilarious, so please, "sit back, relax, and enjoy the show!"
About Josh Bernaski
Josh Bernaski is excited to return to the Roxy stage for Into the Woods, following his debut as Sparky in Forever Plaid. Prior to coming to the Roxy, Josh appeared in Smokey Joe's Café and Schoolhouse Rock Live with The Renaissance Center in Dickson. Other past performance credits include Troy Bolton in Disney's High School Musical and Napthali in Joseph and the Amazing Technicolor Dreamcoat with New Candlelight Theatre, and Seymour in Little Shop of Horrors and Jamie in My Fair Lady with City of Maples Repertory Theatre.
About John Edgar Moser

John Edgar Moser is thrilled to return to the Roxy for his second role of the summer as Rapunzel's Prince in Into the Woods. Most recently at the Roxy, he played Smudge in Forever Plaid and the Squeegieman and other assorted ensemble characters in Rent. Past credits include Seymour in Little Shop of Horrors, Hines in The Pajama Game, and Hovstad in An Enemy of the People. John will be a senior this fall at the University of Tennessee at Chattanooga, where he is receiving a B.A. in Theatre on a full scholarship. He would like to thank John and Tom for inviting him back this summer, as well as Mom, Dad, and Allen for their support and love.
About Humberto Figueroa

Humberto Figueroa, currently majoring in theatre at Austin Peay State University, has been with the Roxy for six years. Past performance credits include Beauty and the Beast, Bye Bye Birdie, Aladdin Jr., High School Musical (Ripper), All Shook Up, Honk, Cinderella Jr. (Jaq the Mouse), Mulan Jr. (Captain Shang), RENT (soloist), Disney's Beauty and the Beast Jr. (Beast) and, most recently, Rugrats: A Live Adventure (Steve).
About Tom Thayer
Tom Thayer has been Managing Director of the Roxy Regional Theatre since its inception in 1983. Training includes Austin Peay State University and Lambuth College, and he is a graduate of the American Musical and Dramatic Academy, NYC. While living in New York, he worked as a public relations liaison for the Metropolitan Museum of Art, created and taught dance programs at the Dwight School and created and taught young dramatics for the Rhodes School. He is the founder of the Clarksville Theatre Guild, as well as the Roxy Regional Theatre, and has performed off-Broadway as well as throughout the South. With Artistic Director John McDonald, he created the Roxy's Professional Company and serves as a director of the Summer Drama Camp, which is sponsored in conjunction with the Clarksville-Montgomery County Parks and Recreation Dept. He was awarded the Ovation Award from the Austin Peay State University Center of Creative Arts as well as the Point of Pride Award from the Clarksville-Montgomery County Board of Education and a Lifetime Achievement Award from the Clarksville Arts & Heritage Development Council.
About John McDonald

John McDonald is the founder and Artistic Director of the Roxy Regional Theatre. A graduate of the American Academy of Dramatic Arts, as an actor John has worked with the New York Shakespeare Festival, Macbeth with James Earl Jones; Long Wharf Theatre, A Lion in Winter with Ralph Waite; and productions of Long Days Journey Into Night (James); Macbeth (Macbeth); Who's Afraid of Virginia Woolf? (George); and numerous others. As an instructor, he has taught theatre at the American Academy, The Rhodes School, The Dwight School, Hewitt, and is the creator of the Roxy Saturday Workshop, an acting program for young performers. Writing and production credits include, among others, Jekyll and Hyde, The Red Badge of Courage, Dorothy Dix: Speaks!, Nora Witzel: A Very Curious Fella, The Picture of Dorian Gray, All Quiet on the Western Front, Poe Unearthed and Headin' South, Goin' North, a staged reading for the Fourth Annual Clarksville Writers Conference.
About Adam Kurtz
Adam Kurtz (Production Stage Manager / Company Manager) is a native of Detroit, Michigan. He is a graduate of Wayne State University, where he received a BFA in Theatre in Design/Technology, specializing in Stage Management. This is his second season at the Roxy, and he is excited to be back. His previous Roxy credits include A Christmas Carol, Altar Boyz, Macbeth, All Quiet on the Western Front, CATS, RENT, The 25th Annual Putnam County Spelling Bee, The Beauty Queen of Leenane, A Streetcar Named Desire, Hansel and Gretel, Peter Rabbit & Friends, Ring of Fire, As You Like It, Of Mice and Men, Disney's High School Musical 2 and Forever Plaid. Adam would like to thank Tom and John for this wonderful opportunity and his family for all of their support.
About Kyra Bishop

Kyra Bishop has been involved in theatre since middle school, performing in summer musical camps in Hopkinsville (and dabbling in set painting), but she has become passionately involved with all aspects of theatre in the past two years. She co-founded the Clarksville Academy Musical Theatre troupe at her high school, where she designed the set and appeared on stage in productions of Into the Woods Jr. and The Fantasticks. Her other design credits include the APSU Opera Theatre's production of The Pirates of Penzance. She will attend Webster University in the fall to study theatre design.