APSU Women's Soccer

Cookeville, TN – A 2-1 Ohio Valley Conference win against Tennessee Tech has put Austin Peay State University women's soccer team into the postseason tournament for the second time in program history.
The No. 3-seed Lady Govs will face No. 6 Murray State in first-round action of the 2010 OVC Soccer Championship at 8:00pm, November 4th, in Morehead, KY.
"This is extremely exciting for the team," Lady Govs head coach Kelley Guth said. "We've accomplished a lot this season and this was a huge game for us. It was a battle the whole way. (Tennessee) Tech fought and it was a real back-and-forth match. It was emotional for both sides. We executed and got the win, which was crucial for us to secure our highest seed possible in the postseason."
The game-winner came after a Golden Eagles handball foul gave the Lady Govs a free kick in the 82nd minute. It was freshman midfielder Natalia Ariza scoring her season's third goal to give Austin Peay the final advantage.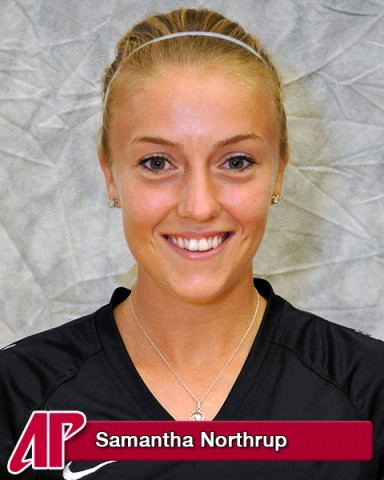 Senior defender Samantha Northrup scored the Lady Govs first goal in the 22nd minute off a corner kick. In an ironic twist, the set play on which Northrup scored was a last minute change made by Guth in pregame. Northrup took a header from sophomore Laurena Robinson and drilled a one-timer past the over a diving keeper.
"A week ago I changed the set play from what we had normally done," Guth said. "Right before the game today, I decided to go back to our regular corner. Our first corner kick, she was back in her normal spot and Renny got the ball to her. (Northrup) got a half-volley with her left foot and it was a brilliant goal."
The Golden Eagles managed to equalize, early in the second half, when Kerri Reid scored an unassisted goal. Guth's team would answer to put itself in a familiar place late in the game.
Natalia Ariza's goal put Austin Peay in a situation where they have much experience; having a lead against OVC team with fewer than 10 minutes to play. In wins against Eastern Kentucky and Jacksonville State, the Lady Govs scored in the 89th and 84th minute, respectively. With Northrup anchoring the back line, the Lady Govs shut down Tennessee Tech's offense over the final minutes to secure the win.
"Sam has been such an awesome player for us, a four-year captain," Guth said. "She doesn't get a lot of recognition for what she contributes, especially since we've moved her into the back line. She's never been a player to get a lot of stats, kind of an unsung hero for us. That goal was such a reward for all of her hard work, I couldn't be happier for her."
Austin Peay would go on to limit Tennessee Tech to only six shots with one on goal. The Lady Govs fired 12 shots, with six on goal, led by freshman Tatiana Ariza's game-high five shots. Both Natalia Ariza and Northrup scored on their only respective shots.
"I'm proud of our team and excited for what comes next," Guth said. "It starts all over again next week. It's a brand new season once again. We've got to do our best to prepare for the tournament. We want to get our team focused and prepared to go to Morehead State and perform as best we can in order to make a run at a championship."