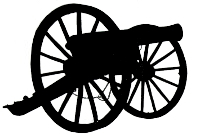 Clarksville, TN – Just in time for the Sesquicentennial commemoration of the Civil War in Tennessee, the Second Annual Friends of Fort Defiance Civil War Ball and Dinner will be held at Smith-Trahern Mansion, 101 McClure Street, on Saturday, November 13th. A gala affair, the dinner begins at 5:00pm. with the ball ending at 9:30pm.
Reservations are required, as is period clothing. Tickets are $30.00 each and are obtained by calling Phyllis Smith: 931-551-4560 or by e-mailing as soon as possible. Limited seating is available.
A memorial service will be held at Riverview Cemetery at 3:30pm.
Fort Defiance is located at 120 A Street in Clarksville.
Here are some facts you should know about Fort Defiance, as gleaned from the Friends website:
Fort Defiance was once known as Fort Sevier and again as Fort Bruce.
The fort sits on a 200 foot high buff overlooking the Cumberland River.
A gun platform facing north over-looked the Cumberland River, one gun platform faced west and another bomb-proof gun platform faced south.
The main gate of the fort opened to the east.
When Fort Defiance fell to Union troops, the ironclad U.S.S. Cairo and the Conestoga were on the Cumberland River near Clarksville.
Trenches inside the fort were constructed for communication and at least one powder magazine.
Local historians believe that there still may be one powder magazine under the mounds at Fort Defiance.
Retired Judge Sam Boaz preserved and donated the Fort Defiance site to Clarksville in the mid 1980's.
Again, according to their website, "Friends of Ft. Defiance is currently a small group. We need other committed people who are willing to help preserve our Civil War sites and educate people on Clarksville's important role in the Civil War." To learn more about how to become a member, please call Phyllis Smith.
Renting a costume for the ball can be obtained by calling George Terrell, owner of Backstage Costume Rental. He has graciously agreed to open his business and rent clothes to anyone who is coming to our ball and needs a costume. You may call him at 615-594-6552.
According to descriptions of last year's dinner and ball, the dinner served was excellent and the dancing great fun. Instructions are given for the authentic dances that would have been performed during Civil War days. Bluegrass music accompanied the dancing.
This year's event promises to be even more delightful so get ready for a memorable evening. I personally just can't wait!