Written by Regional Command East Public Affairs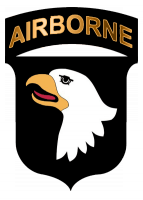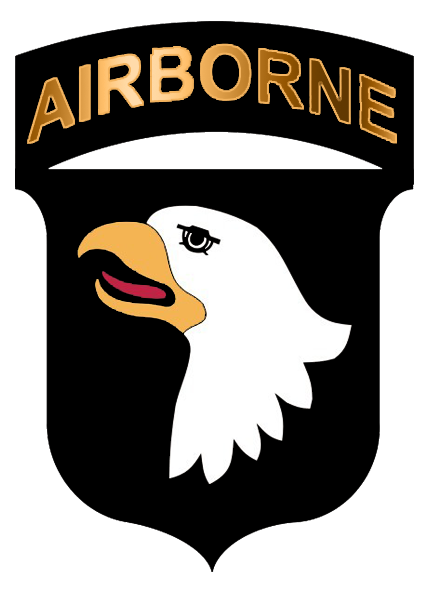 Bagram Airfield, Afghanistan – U.S. Army Sgt. Donald Starks from Grayling, MI, received the Silver Star in a ceremony on Combat Outpost Margah in eastern Afghanistan's Paktika Province today.
U.S. Army Gen. David H. Petraeus, International Security Assistance Force commander, awarded Starks for his actions during an insurgent attack on COP Margah October 30th.
Starks, the fire team leader for C Company, 2nd Battalion, 4th Brigade Combat Team, was in charge of a six-man team located at an observation post five kilometers southeast of COP Margah when they were attacked by more than 25 insurgents.
"I heard [U.S. Army Pfc. James Platt] say 'Sergeant Starks, I see movement,'" said U.S. Army Pfc. Livingston Morehouse, C Co., 4th BCT.
Before Platt could finish his radio transmission, the team began taking fire from multiple sides.
"Sergeant Starks and I ran north," said Morehouse "Starks opened fire with the [MK-48 machine gun] … [Insurgents] were so close, we could hear them speak to each other."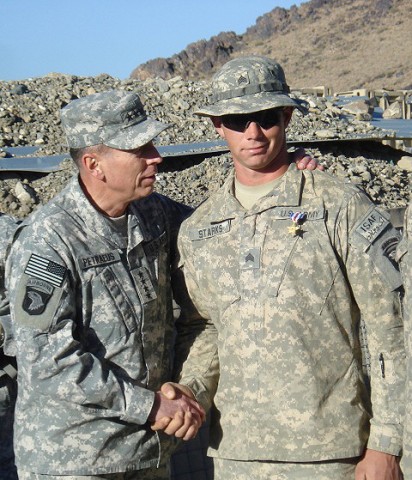 Starks shot illumination fire, positioned his Soldiers and led the charge against Taliban fighters.
Enemy fire continued from all directions as Starks realized two of his five Soldiers were wounded and they were running low on ammunition. He made the critical decision to break contact with the insurgents attacking the observation post and return to COP Margah. While continuously calling in air support, Starks led his team through indirect and direct fire back to COP Margah where the injured Soldiers were treated.
"Starks distinguished himself with gallantry and bravery in combat against an enemy that outnumbered his element five-to-one," said U.S. Army Capt. David Schulz, company commander of C Co., 2nd Bn., 4th BCT, who recommended Starks for the Silver Star.
"In the face of overwhelming odds, he led his men to safety while calling for and adjusting fire," Starks' citation read. "His remarkable performance and selfless commitment to his fellow comrades in arms undoubtedly saved the lives of all of his men."