APSU Women's Basketball

Clarksville, TN – Austin Peay will begin its tour of the Southern Illinois University system when it meets SIU Edwardsville in a 7:00pm, Friday contest at the Vadalabene Center.
The Lady Govs will play their fourth game in the past seven days, Friday. It also will be the fourth game of the Lady Govs current seven-game road swing. Austin Peay will not return to the friendly confines of the Dunn Center until a December 8th contest against Lipscomb.
The Lady Govs return to action after suffering a 71-61 loss at Chattanooga, Tuesday. Austin Peay  trailed by 15 points in the first half before mounting a 15-2 run over a three-minute span to close within two points. Austin Peay would get no closer but also would not trail by more than 15 points the game's remainder.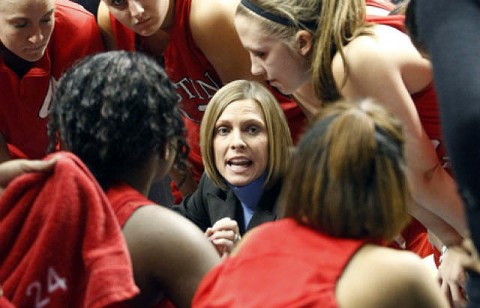 Through the season's first five games, Hanley leads the Lady Govs with 13.0 points and 3.2 assists per game. She has scored more than 15 points in three of the season's five games, including 19 points at Chattanooga. Senior Dalila Thomas and junior Jasmine Rayner – the Lady Govs frontcourt duo – are averaging 11.4 and 10.0 points per game, respectively. Rayner leads the team with 6.0 rebounds per outing.
SIU Edwardsville enters Friday's contest seeking its first victory. The Cougars dropped a 71-59 decision at Missouri-Kansas City, Tuesday. SIUE also has losses to Missouri Valley members Illinois State and Wichita State, which were picked fourth and fifth, respectively, in that league's preseason poll. Junior guard Melia Duncan leads the Cougars with 12.5 points per game, making 12-of-29 (.414) from three-point range.
Lady Govs fans will see a familiar face on the Cougars bench. Jocelyn Duke, a member of the Austin Peay women's basketball team during the 1999-01 seasons, is in her first season on the SIUE coaching staff.
Key Notables From Lady Govs Last Game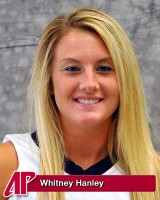 Junior guard Whitney Hanley ended her season's cold start with a 7-of-11 (.636) field-goal performance at Chattanooga, including a 5-of-8 (.625) effort from three-point range. Prior to the game, Hanley was shooting just 29.5 percent from the field and 25.0 percent from three-point range.
Meghan Bussabarger scored 11 points, including nine points during APSU's 15-2 first-half run that cut the Chattanooga lead to two points with 9:01 remaining. It was her best scoring performance since a 13-point performance at Eastern Kentucky, January 4th, 2010 – a  span of 21 games since double-digit scoring efforts.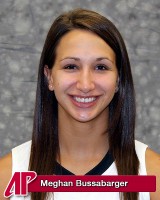 Led by Bussabarger, Austin Peay's bench scored 24 points, including nine points by freshman Nicole Olszewski who also had four assists and three rebounds.
Austin Peay's starting frontcourt – senior Dalila Thomas and junior Jasmine Rayner – was held to 12 points on 6-of-16 shooting. Thomas finished with eight points and four blocked shots. Rayner was credited with four points and six rebounds before fouling out.
About Austin Peay
Austin Peay finished its three-game guarantee in the Preseason Women's NIT, November 20th, defeating Utah Valley to post a 1-2 record in the tournament. The victory against Utah Valley snapped the Lady Govs 13-game non-conference losing streak that dated back to last season's second game.
The Lady Govs have won the last two Ohio Valley Conference women's basketball tournament crowns, but enters 2010-11 seeking to replace the output from the loss of its leading scorer and leading rebounder from last season.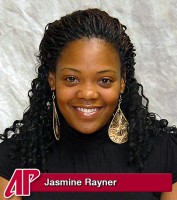 Junior forward Jasmine Rayner, who finished second in both scoring and rebounding last season, was named to the Preseason All-OVC squad.
Outside the lane, the Lady Govs will rely on its other two returning starters – junior Whitney Hanley and senior Brooke Faulkner, who were fourth and fifth in scoring last season.
The rest of the Lady Govs starting five will have to be filled from last season's bench that combined made just 34 starts last season. In addition, last season's bench combined to play just 2172 total minutes, averaging 65 minutes per game, or less than a third of a game.
Austin Peay added three newcomers to this season's roster – early signees Shyra Brown and Nicole Olszewski as well as walk-on Lauren Yarbrough. Olszewski will have her opportunities at point guard this season and has averaged 14.5 minutes played in their first two contests. Brown will miss the first part of the season due to injury.
Quickly About SIU Edwardsville
SIU Edwardsville returns four starters among its eight returning letterwinners from last year's team that went 8-21.
SIUE is a member of the Ohio Valley Conference but its teams do not compete in regular-season or tournament competition. The Cougars will join the regular-season fray in 2011-12 and will be eligible for post-season play the following season.
SIU Edwardsville will play eight of the OVC's 10 members this season – only Jacksonville State and UT Martin will forgo a meeting with the Cougars – accounting for 11 games on its schedule this season.
The Cougars do not give the ball away freely, they have committed 76 turnovers (19.0 pg) in their first four games. But 31 of those came in SIUE's loss to Wichita State, bringing their average to 15.0 per game in the other three games.
Next Up: Southern Illinois
Austin Peay continues its seven-game road swing with a 2:00pm, Sunday contest against Southern Illinois, Sunday, in Carbondale, IL. It will be just the third meeting all-time between the two teams in a series that began in 2006-07.