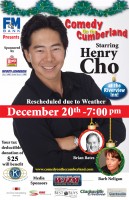 Clarksville, TN – The fourth Comedy on the Cumberland was held on Monday December 22nd in the Riverview Inn Ballroom. The comedy show featured Hank Bonecutter, Brian Bates, Barb Neligan, and Henry Cho in a benefit for the Downtown Kiwanis Club, and their children's charities. Henry Cho's father was the President of the Kiwanis Club in Knoxville and so this benefit had a personal connection to him.
"This show is for the Kiwanians who do so much for our kids, and We appreciate your support. Certainly they money we raise here is for the Kiwanis Club and all that they do for kids here in the community. It is just awesome. " said benefit organizer Hank Bonecutter.
http://www.youtube.com/watch?v=BJ1imcZX2ps
"Anyone have any trouble getting in?" he asked, to which the a few people in crowd responded "No!" to which he quipped, "Is it that easy?"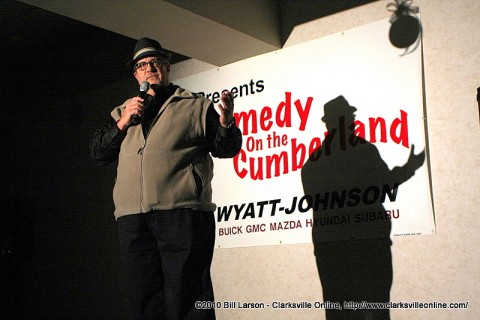 Bonecutter then recognized outgoing Mayor Johnny Piper, and incoming Mayor Kim McMillan and her Chief of Staff Charlie Koon. He also jokingly chided Montgomery County Mayor Carolyn Bowers, for skipping the show to attend a Garth Brooks concert.
He talked his new found desire to lose weight. "My wife looked at me one night and asked if I wanted to go up stairs and make love? I said pick one! I can't do both! I mean I'll go up the stairs, but then I gotta take a nap." He continued, "Why don't you just sit in my lap. so I don't miss the game." to laughter
He then introduced Brian Bates who kicked off the show.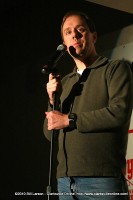 Bates had initially appeared in the July 20th benefit for the American Red Cross. As a budding comedian, his number largely mirrored that performance, with some new material sprinkled throughout.
I don't do well with women as I have already told you, it's probably because my mom still treats me like an eight year old, girl,

Her biggest fear is I will be abducted by on-line predators
He then segued that into talking about social networking.
He closed his number with a joke about selling used cd's that he picked up at a yard sale after the show in the lobby.
For whatever my opinion is worth, I feel that Bates can enhance the delivery of his material by freeing himself from the static microphone stand, and more fully utilizing the stage. Being more free with body language would be helpful to help better  punctuate some of his stories and jokes.
Readers should not take these suggestions to mean that Bates does not put on a very funny show. When he performs he is able to keep the crowd constantly laughing.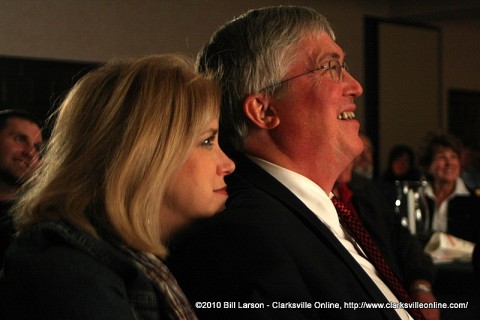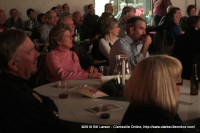 Bonecutter returned to the stage and asked for a female volunteer from  stage right to say "Yee-haw". A masculine voice gave a"Yee-haw" to which he responded "Female! My god! Was that a female?…" A woman then jumped in with a "Yee-haw." After coordinating  a cue with the woman, he continued.
After giving the woman her cue, she responded "Yee-Haw" and Bonecutter joked "I was wondering where Mayor McMillan was." McMillan joined the crowd in laughter from the other side of the room. He continued this bit throughout the evening.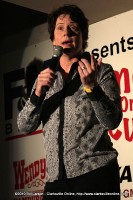 Bonecutter than introduced Barb Neligan. Neligan had appeared in the debut Comedy on the Cumberland show which benefited Project F.U.E.L.
Neligan wide-ranging set ranged from road-trips to Tasmanian Devils.
Next up South Dakota, and if I had to choose one word to describe that American vista that would be Crystal Meth. No, I'm kidding, I'm kidding, I'm kidding. That's two words. I'm kidding, I'm kidding, I'm kidding. South Dakota two words, Corn Palace…
She was really on her game that evening with a smooth and seamless performance that effortlessly kept the crowd laughing.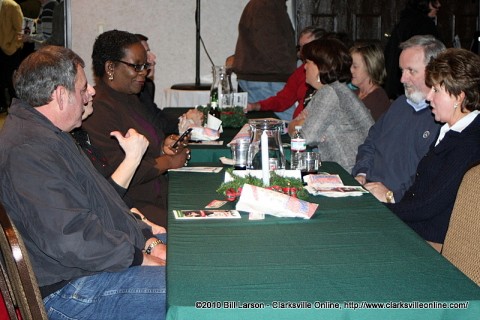 After returning to the stage Bonecutter thanked the sponsors.
We want to thank F&M Bank, Wendy's, Wyatt-Johnson for sponsoring these events. It was an idea and they bought into it, and it worked, and we really appreciate them. We really appreciate all of you coming out tonight.

Next year hope you will stay tuned to WJZM for all of the shows; Clarksville Online you will find all of the coverage there.

So Next year we will start 2011 with another series of shows, and we will just keep having fun and laughing
He then introduced Henry Cho, who has a lengthy list of credits and appearances to his name.  Cho recognized Hank Bonecutter and his supporting comedians,  Barb Neligan and Bryan Bates; "especially Brian Bayes he's my ride home!"
Cho then started out talking about stereotypes
I love the Asian stereotypes like most people think we all know each other. I was on a plane the other day, the guy next to me was a big old boy. He was overweight, like three seater hefty. He looked at me and said "Are you Korean." I said "Yes Sir."  He said "I know some Japanese people, you know them?

Not really, I know some fat people that live in my neighborhood! How about that!

I do have to say this if one more in this hotel asks me for towels I am gonna kill you.

I was just walking through the lobby.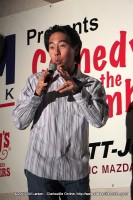 Cho has a deadpan delivery and comedic timing that really brings out the humor in the simplest things he says a talent the crowd clearly appreciated.
I was born and raised in Knoxville. This was back in the 60's. You gotta understand this, and we were the only Asian people there. So I had no idea I was supposed to be smart. Who knew man. I didn't figure it out until my first day of college. People sitting next to me trying to copy my work. They were like man; man, you're are not smart! I'm sorry I was born here. You can laugh at that! I know what you are thinking wait I was born here. Exactly!
His set ranged from Stereotypes, Marriage, Childbirth, family, Spanking, and more. If you get another chance to see Henry Cho perform you really should take the opportunity. He is a riot.
At the close of the show someone unexpected stepped on stage. Denise Skidmore the founder of Project F.U.E.L. was on hand to present Hank Bonecutter with a plaque to recognize the contribution that the comedy benefit had made in helping to feed needy children in the Clarksville-Montgomery County School System.
Skidmore said:
Hi, I just wanted to take this opportunity to thank Hank for everything he has done for our community. When he called me and said that he wanted to do a comedy show for Project F.U.E.L. I was quite intrigued by the idea. And he has just really poured his heart into everything that he has done, and used every resource that he had to make our community a better place. So I have this plaque for him.
She then asked him to read the plaque.
"My Town"

My town is the place where my house is found, where my business is located, and where my vote is cast. It is where my children are educated, where my neighbors dwell and where my life is chiefly lived. It is  the home spot for me.

My town has a right to my civic loyalty. It supports me, and I should support it. My town wants my citizenship, not my partisanship; my friendliness, not my dissensions; my sympathy, not my criticism; my  intelligence, not my indifference.

My town supplies me with protection, trade, friends, education, schools, churches, and the right to free moral citizenship. It has some things that are better than others. The best things I should seek to make it better; the worst things I should work to suppress. Take it all-in-all, it is my town, and it is entitled to the best there is in me.
Bonecutter said that the presentation was not planned, and,  "If you want to see a grown man cry give me five minutes," he continued, "That was very nice. As I said in the beginning, this all started out for the people in need. It was not about me, or the sponsors. It's all about the community. It's all about you that you!  That you will come out on a Monday night, that you will come out on a Tuesday night, and you will donate your money to the charities that are in need; and you will laugh your tail off."
There will be an entire series of Comedy on the Cumberland shows coming in the new year.  Listen to WJZM 1400 AM, or read Clarksville Online for all the details!
Photo Gallery
About Henry Cho
Comedian Henry Cho figures his real life is so much like a sitcom he might as well turn it into one. That's what he's done in a series now in development with CBS-TV/Paramount Studios. Cho's executive producers on the project are Late, Late Show host Craig Ferguson and Jim Hope, who counts The George Lopez Show and Titus among his production credits. This is the first project for Ferguson's newly-formed production company Green Mountain West.
"As creator and producer of the show," says Cho, "I'm looking forward to starring in something that's based on my life and my standup routines."
Cho is particularly proud of the team he's assembled. "Craig Ferguson is unique," Cho says. "Most major TV stars don't go to network meetings. But Craig does. He's 100% involved. His input is invaluable. Because he's also a standup comic, he gets everything I'm trying to do. Jim Hope will co-write the show with me. We've been looking for a project to work on together for the last 17 years. Now we have that opportunity."
Visit Henry on the web at: www.choindustries.com.
About Hank Bonecutter
Hank Bonecutter is owner/general manager of WJZM, and co-host of Clarksville's longest running morning show, "the Bone Show". This 35 year broadcast veteran has now added stand up comedy to his resume.
"It's something I wanted to do for a living, but my wife didn't want to live in a box under a bridge so I got a regular job. Rik Roberts encouraged me to pursue stand up comedy saying 'It's never too late to get into the game'.
After attending Rik's "School of Laughs", Hank was invited to perform at Zanies Comedy Showplace, and from there he was hooked. "I wondered if I could be funny, and not just make a fool of myself, then I thought, I'm really good at making a fool of myself, and people laugh at that, so there you go".
Creating Comedy on the Cumberland was a way for Hank to use his radio station and his entertainment connections to bring stand up to Clarksville, and benefit his community. The rest as they say is history.
About Barb Neligan
Barb Neligan sticks the firecracker of comedy into life's absurdities and lights the fuse. During her formative years growing up Catholic in the deep South, Barb also enjoyed blowing up brightly colored plastic objects with real firecrackers. (Please note: The Catholic/deep South thing is not really related to the firecracker/plastic object thing. It is more related to the absurdities thing. Seriously. She went to the only church in America that served communion moonshine.)
Barb started doing stand-up in the early 1980s while in college in Chattanooga, Tennessee. From there she moved to Chicago where she spent five years honing her improvisational comedy skills. That raucous time led her to a writing stint that included scripting such epic dramas as "Country's Most Shocking: Stories Behind Southern Rock and Outlaw Country" which aired on CMT. Even though Barb is pretty sure she was close to winning a Pulitzer Prize for her in-depth analysis of celebrity plane crashes, car accidents and drug overdoses, the steady glow of the word processor paled in comparison to the sparks given off by a live audience.
So she's back out on the comedy circuit putting a match to everything from kudzu to congress to cyberspace—mostly because she likes the way the explosion brightens up the room. (Figuratively, that is. There's no actual gunpowder involved. Just words. Which is good, because otherwise everyone in the audience would have those little pieces of paper stuck to their clothes and smell like the Fourth of July.)
Come see Barb. She's currently working on getting some of her jokes to float down on little parachutes after they blow up. You won't want to miss that.
About Brian Bates
Brian Bates has been laughed at all his life by friends, family, Sunday school teachers, guidance counselors, etc. He knows this because they were always quick to point out they were laughing at him instead of with him.
After years of counseling, his therapist suggested Brian start recouping some of his therapist bills by charging the people who laugh at him. "Why be publicly humiliated for free?" his therapist asked. "Make them pay for it." That's when a stand-up comedy career began. The rest, as they say, is history.
Brian has performed at comedy clubs and corporate events all over the United States. His clean, smart comedy style allows him to work in almost any setting whether it be a club, corporate event, or even a church.
To learn more about Brian, check out his website at: www.brianbatescomedy.com.