APSU Men's Basketball
Governors vs UT Martin 7:30pm, Thursday, February 3rd
Dave Aaron Arena/Dave Loos Court – Clarksville, TN 

Clarksville, TN – If Austin Peay needs any reminder on how much UT Martin has improved this season, the Govs only need to turn back the clock to early January.
The Governors found themselves down nine halftime points and were forced to rally for a 71-61 victory, preventing the Skyhawks from their season's first Ohio Valley Conference victory.
Like Daylight Savings time, move the clock forward. The young Skyhawks saw a four-game winning streak snapped last Saturday at Murray State. Included in that four-game streak was three straight OVC victories, including triumphs against Jacksonville State, Eastern Illinois and Southeast Missouri.
The Skyhawks now are in the hunt for an OVC tourney berth and will bring that mindset to Clarksville when Austin Peay plays host to UT Martin, 7:30pm, Thursday.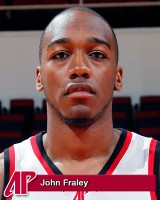 It has been a solid mixture of veterans, forward Benzor Simmons (13.0 ppg) and guard Reuben Clayton (11.9 ppg) combined with a talented group of freshmen, led by guard Terence Smith (11.1) and Mike Liabo (10.4 ppg) along with forward Troy King (9.2 ppg). King and Smith were particularly effective in the first meeting.
The Governors, meanwhile, will attempt to bounce back from a 35.6 shooting performance that led to a season-low 56 points in Saturday's 69-56 loss to Morehead State.
The Govs hope to continue to receive the rejuvenated performace from center John Fraley, who was the Govs' scoring leader at both Eastern Kentucky and Morehead State with 14 and 15 points, respectively.
But the Govs' perimeter game was in hiding at Morehead State as OVC scoring leader TyShwan incurred his second straight single-digit scoring performance, being limited to just nine points on just 2-of-14 shooting. APSU head coach Dave Loos, seeking an offensive boost, even played Edmondson at point guard late in the game while trying to get Justin Blake's perimeter potential on the floor. Blake, with 10 points, was APSU's only other double-figure performance against Morehead State.
Will Triggs, who started in place of the ill Melvin Baker at Eastern Kentucky, came off the bench to lead in APSU in rebounding for a third-straight game.
What You Should Know
The Series: This is the 89th meeting between the two Ohio Valley Conference foes, Austin Peay and UT Martin, with the Govs holding a decisive 64-24 advantage. The Governors have won the last three contests, including the January 10th meeting in Martin, 71-61. The Govs overcame a nine-point halftime deficit with 61.3 percent second-half shooting, including 25 post-intermssion points from Josh Terry, who finished with a game-high 27 points.
What A Win Would Mean: The Govs would rise to six games above the .500 mark at 15-9 before facing Murray State, Saturday night. It would give the Govs a twogame home winning streak. It would make the Govs 9-3 in the OVC. It would assure the Govs first place in the OVC heading into Saturday. It would make the Govs 1-0 in February. It would give the Govs a 7–2 home record. It would give the Govs a 4-1 OVC home record. They would hand UT Martin it second straight defeat. It would give APSU a 65-24 overall lead in the series. It also would be Dave Loos' 428th career college  coaching win and 346th APSU victory, leaving him four shy of 350 league victories. It would improve Dave Loos to 28-10 all-time against UT Martin. It also would improve Loos to 4-0 all-time against UT Martin coach Jason James.
What A Loss Would Mean: The Govs would drop back to four games above the .500 mark at 14-10..it would drop APSU to 8-4 in the OVC. It would give the Govs a two-game losing streak. It would allow UT Martin to split the regular-season series. It would drop APSU to 64-25 all-time in the series. It would be Dave Loos' 339th all-time loss and 286th APSU defeat.
Next Game
Saturday, February 5th at 7:30pm
Dave Aaron Arena, Clarksville, TN – It is only fitting the two teams that comprise the OVC's best rivalry would find themselves first and second in the league standings. Since losing to Eastern Illinois, January 20th, the Racers have reeled off three straight victories, including dominating performances against SEMO and UT Martin. The balanced Racers have just one player averaging double figures, Isaiah Canaan (11.9 ppg). He became the Racers' first 20-point scorer of the 2010-11 season when he poured in 24 points against UT Martin, Saturday. The Racers, in fact, hit 11 of 12 first-half three pointers in that contest.