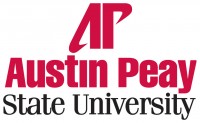 Clarksville, TN – The Master of Arts in military history is a relatively young program at Austin Peay State University, receiving approval from the Tennessee Board of Regents only four years ago, but it is already garnering a national reputation as a respected degree program. That's because the University's M.A. in military history has received some rather prominent publicity in the last few years, including a recent article in the American Historical Association's publication "Perspectives in History."
The AHA, founded in 1884, is the largest historical society in the country. The article in its journal touts the APSU program's "new military history" approach that stresses the relationship between war and society.
"Faculty members with fields in classical, diplomatic or other traditional fields were asked to develop military courses building on their existing expertise," Dr. Dewey Browder, chair of the APSU Department of History and Philosophy, said. "They rose to the occasion, and the program now boasts military history courses that cover the full sweep of history from antiquity through the end of the Cold War."
The courses listed in this degree program include Warfare in the Classical World, Medieval Warfare, The Military Revolution and the State, Navies and Empires, The U.S. Military and Society, the Battle for God, Jihad, Harem and Other Theologies of War and Peace, Unconventional Warfare in History, the History of Airpower, the Samurai Tradition in Japanese History, the Military in Nontraditional Roles, European Military History 1789-1945, Cold War Political Diplomatic Issues and other specialized courses.
This unique program was also featured in a short five-minute documentary last year on Historians TV, an online television channel that partners with the AHA. The film highlighted the program's curriculum and close ties with Fort Campbell, KY, such as having access to the post's extensive archives and providing internships with the Pratt Military Museum, as well as the history department's deep involvement in the Library of Congress' Veteran's Oral History Project. Interviews with students emphasized the importance of understanding military history as a part of the nation's total experience, as well as the success of student organizations.
The APSU history department's Master of Arts in military history currently has about 47 graduate students from various backgrounds, including attorneys, physicians, Army officers and recent college graduates. The recent publicity is expected to cause those numbers to grow.
For more information on the M.A. in military history at APSU, contact the APSU Department of History and Philosophy at 931-221-7919.