Written by By U.S. Army Staff Sgt. Ben K. Navratil
Task Force Duke Public Affairs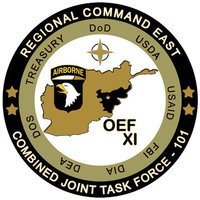 Khowst Province, Afghanistan – The U.S. Army's 101st Airborne Division rock band, "Nuts!", performed at Forward Operating Base Salerno February 20th.
The four-piece outfit consists of U.S. Army Staff Sgt. Iaian Thompson of Spotsylvania, VA, on vocals and lead guitar; U.S. Army Cpl. Spencer Emch of Essex, CT, on drums; his wife U.S. Army Spc. Megan Emch of Brownwood, Texas, on vocals; and U.S. Army Spc. "Disco" Tommy Kindle of Batson, Texas, on bass guitar. All are also members of the division's military band.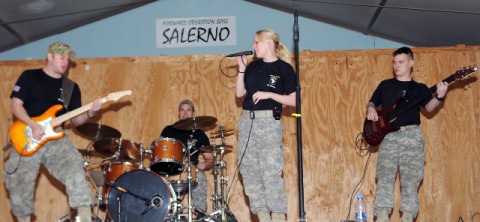 The performance also featured a guest singer, U.S. Army Pfc. James Keefer of Antioch, CA, a mechanic with Headquarters, Headquarters Battery, 1st Battalion, 6th Field Artillery, 3rd Brigade Combat Team, 1st Infantry Division, Task Force Duke, who joined the band on stage for a rendition of the Marshall Tucker Band's "Can't You See."
"I think the band is great for letting me get up there and sing with them," said Keefer, who was once front-man in his own band.
"It was an old familiar feeling," he said about being back on stage for the first time in two years. "You can never totally get rid of those butterflies in your stomach."
The band has been touring Afghanistan for 10 months, boosting morale with energetic performances that mix country and rock songs.
"At the very least, we provide a release for the guys on patrol, the guys out on the firing line, even the guys in the offices," said Thompson, the band's leader. "We try to take them out of here, if just for an hour."
The band's name is derived from a famous event in the history of the 101st Abn. Div. during World War II's Battle of the Bulge. During fierce combat between German and American forces for control of Bastogne, Belgium, the division's acting commander, U.S. Army Brig. Gen. Anthony McAuliffe was asked to surrender the town by German troops surrounding it. He responded with a note that simply said "Nuts!"