APSU Women's Softball

Oxford, MS – Austin Peay's softball team put a scare into Southeastern Conference member University of Mississippi on Friday afternoon, in the Fifth annual Red and Blue Classic, losing in extra innings, 4-3, after a 5-0 morning loss to Western Kentucky.
Austin Peay (2-8) trailed Ole Miss 1-0 heading into its final at bat, but junior Catie Cozart, who had a double earlier in the game, led off the seventh inning with a triple to straight away center field. She scored two outs later on a single to left field by freshman Caitlyn Anderson, tying the game 1-1.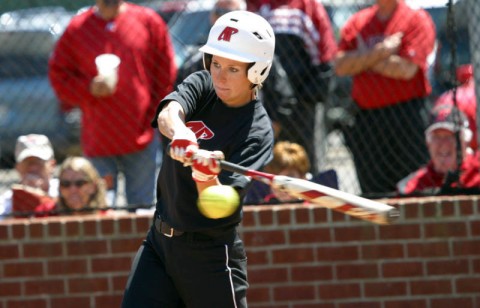 Mississippi (4-8) failed to score in its half of the seventh and the two teams went into extra innings – where they went into the international tie-breaker, which puts the final batter of the previous inning on second base to start the inning.
With one out and redshirt freshman Kristin Whitmire still on second base, senior Tiffany Smith blasted her second home run of the season out to left-center field, giving Austin Peay the lead 3-1.
But bad luck hampered the Lady Govs in the bottom of the inning, as R.T. Cantillo led off the inning with a double to drive home Marina Parra, who started the inning on second base. Anderson slipped and fell to the ground on the play when she tried to turn to track down the ball.
Cantillo would score the tying run from second base when Kendall Bruning's sacrifice bunt was fielded by redshirt freshman first baseman Shelby Norton, who saw her throw dropped by Lady Govs Randal Davenport, who was covering first base.
The Lady Rebels would win the game two batters later on a two-out single to left by Natalie Nimmo.
In the morning game, Western Kentucky (4-4) broke on top 1-0 in the bottom of the second inning, when Mallorie Sulaski hit her season's her first home run to right field to lead off the frame.
Despite being limited to just two hits – singles by Smith and Morgan Brewer — the Lady Govs did threaten a couple of times, as they got base runners into scoring position in second, third and fourth innings, but couldn't come up with the break-through hit to get on the board.
The Lady Toppers would add to their lead in the third inning, scoring twice on a bases-loaded single to shallow center field by Amanda Walden to make it 3-0.
The Lady Toppers would use the long ball again to score in the fourth, with Kim Wagner hitting her first home run of the season out to left field, to make it 4-0.
An Austin Peay error and a wild pitch helped Western Kentucky add its final run in the fifth inning, when Whitmire's one-out throwing error from shortstop opening the door for Amanda Thomas' RBI double two batters later to make it 5-0.