The Roxy Regional Theatre's revival of the Tony award winning musical Ain't Misbehavin' is an explosive romp that takes the audience on a jaunt through the roaring 1920's, and leading into the great depression. The show is intended as a tribute to African American musicians and follows the birth of an entirely new genre of jazz music known as swing.
Swing can trace its roots to the Harlem renaissance which brought African American Culture to the attention of white society in swanky New York night clubs where musicians like Count Basie, Cab Calloway, Fletcher Henderson, Fats Waller, Duke Ellington, Jelly Roll Morton, and Willie "The Lion" Smith entertained the elites of New York's high society.
The show features the music of Jazz Pianist and songwriter Fats Waller, played flawlessly by Tom Thayer.
A sign of Fats Waller's stature in Jazz Music was demonstrated by his kidnapping while leaving a performance in Chicago in 1926.
Leaving the performance four men bundled him into a car and took him to the Hawthorne Inn, which was owned by the infamous gangster Al Capone. Waller was ordered inside the building, where he found a party in full swing. With a gun to his back, he was pushed towards a piano, and told to play.

A terrified Waller was to be the "surprise guest" at Al Capone's birthday party.

According to rumor, Waller played for three days. When he left the Hawthorne Inn, he was very drunk, extremely tired, and had earned thousands of dollars in cash from Capone and other party-goers as tips.
You can just feel Waller's sense of relief when he realized that the gangsters didn't intend to kill him.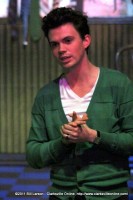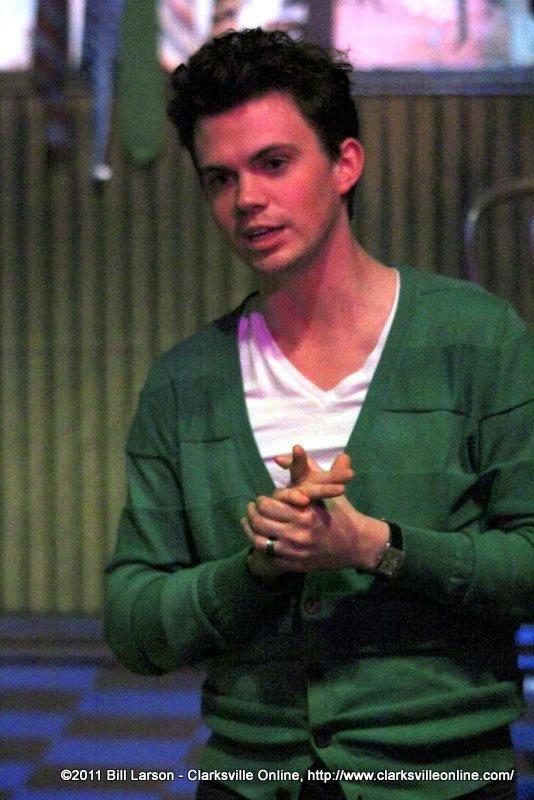 Directed by Ryan Bowie, this Roxy Theatre production has put together an absolutely perfect cast that is so representative of that period that you feel as if you are being magically transported back in time to witness the birth of swing first hand in the steamy Lenox avenue Jazz joints of Harlem where this new type of sound first planted its roots. The actors and actresses sing and dance to along with the songs of the time. The music is smooth and easy on the ears, reminiscent of the gin alcohol that fueled the prohibition era speakeasies that helped to popularize this style of music. The actors voices are powerful and well matched to bring out the best qualities in each one.
The show opens with the title number sung by the five person cast as they arrive at the club for work. The action then jumps between the back stage and on stage action over the course of a couple of days. You can feel the sultry heat between Keith Patrick McCoy and Faith Boles characters on stage personas, while Roslyn Seale waits in the wings. Brittney Mack and Rendell DeBose alternate between providing expertly delivered comedic relief.
The set is up to the Roxy's high standards with on stage and back stage area clearly defined. I am consistently amazed on how they manage to fit so much into such a limited area. The lighting is subtle, with the intimate atmosphere that a night club would want to project. The costuming is elegant and in high style featuring tails and sequins
Ain't Misbehaving run until March 5th and so your time is running out to see this outstanding musical performance. The great acting, dynamic action, and upbeat music keeps you well entertained and delivers a rollicking great time.
Photo Gallery
Score
ACT I
"Ain't Misbehavin'" (Thomas Waller / Harry Brooks / Andy Razaf)
"Lookin' Good But Feelin' Bad" (Thomas Waller / Lester A. Santly)
"'T Ain't Nobody's Biz-ness If I Do" (Porter Grainger / Everett Robbins)
"Honeysuckle Rose" (Thomas Waller / Andy Razaf)
"Squeeze Me" (Thomas Waller / Clarence Williams)
"Handful of Keys" (Thomas Waller / Richard Maltby Jr. / Murray Horwitz)
"I've Got a Feeling I'm Falling" (Thomas Waller / Harry Link / Billy Rose)
"How Ya Baby" (Thomas Waller / J.C. Johnson)
"The Jitterbug Waltz" (Thomas Waller / Richard Maltby Jr.)
"The Ladies Who Sing with the Band" (Thomas Waller / George Marion Jr.)
"Yacht Club Swing" (Thomas Waller / Herman Autry / J.C. Johnson)
"When the Nylons Bloom Again" (Thomas Waller / George Marion Jr.)
"Cash For Your Trash" (Thomas Waller / Ed Kirkeby)
"Off-Time" (Thomas Waller / Harry Brooks / Andy Razaf)
"The Joint Is Jumpin'" (Thomas Waller / Andy Razaf / J.C. Johnson)
ACT II
"Spreadin' Rhythm Around" (Jimmy McHugh / Ted Koehler / Richard Maltby Jr.)
"Lounging at the Waldorf" (Thomas Waller / Richard Maltby Jr.)
"The Viper's Drag" (Traditional)
"Mean to Me" (Roy Turk / Fred E.Ahlert)
"Your Feet's Too Big" (Ada Benson / Fred Fisher)
"That Ain't Right" (Nat "King" Cole / Richard Maltby Jr. / Murray Howitz)
"Keepin' Out of Mischief Now" (Thomas Waller / Andy Razaf)
"Find Out What They Like" (Thomas Waller / Andy Razaf)
"Fat and Greasy" (Porter Grainger / Charlie Johnson)
"Black and Blue" (Thomas Waller / Harry Brooks / Andy Razaf)
"I'm Gonna Sit Right Down and Write Myself a Letter" (Fred Ahlert/Joe Young)
"Two Sleepy People" (Hoagy Carmichael /Frank Loesser)
"I've Got My Fingers Crossed" (Jimmy McHugh / Ted Koehler)
"I Can't Give You Anything But Love" (Jimmy McHugh / Dorothy Fields)
"It's a Sin to Tell a Lie" (Billy Mayhew)
This production is presented with one 15-minute intermission.
About the Company
KEITH PATRICK McCOY is delighted to be performing in Ain't Misbehavin', following previous Roxy appearances in Once Upon A Time and Dracula (Professor Van Helsing). Originally from Portsmouth, Virginia, Keith has performed in summer stock companies, theme park productions, national tours and regional theatres across the United States. Favorite roles include Keno in The Full Monty, Jafar in Aladdin, Dryer/Bus in Caroline or Change, and Jim in Big River. Following this production, Keith will be staying on for Hamlet and Bea(u)tiful in the Extreme. To be gainfully employed in an area of work you love is truly a blessing.
RENDELL DeBOSE is really excited to be making his debut at the Roxy Regional Theatre. Rendell has previously appeared as Jim in Big River at Prather Dutch Apple Theatre, Jim in Bubblin' Brown Sugar at Broward Stage Door Theatre, C.C. White in Dreamgirls at Alhambra Dinner Theatre and Judah in Joseph and the Amazing Technicolor Dreamcoat at Tulane Summer Lyric. Rendell would like to thank the cast for all their support. He would also like to thank God and all his family.
FAITH BOLES feels so blessed to be making her Roxy debut this season. A native of Savannah, Georgia, Faith received her B.F.A. in Music Theatre from Shenandoah Conservatory. Prior to making her Roxy debut in Once Upon A Time, she was seen as The Narrator in Joseph and the Amazing Technicolor Dreamcoat at the Miracle Theater in Pigeon Forge, TN. Some of Faith's past roles include: Motor Mouth Maybelle (Hairspray), Jewel (The Best Little Whorehouse in Texas), B.J (Smokey Joe's Café), Mama Morton (Chicago), and Asaka (Once on This Island). Faith would like to thank her family and friends for their ongoing support. But, most importantly, God for being her theatre agent. (Jeremiah 29:11)
ROSLYN SEALE is thrilled to be performing in Ain't Misbehavin', following her Roxy debut in Once Upon A Time. Past regional credits include Joanie in The Full Monty, Mrs. Pugh in Annie, Gospel Singer in Violet and Young Irene in Bubbling Brown Sugar. Born and raised in Brooklyn, NY she has appeared in many New York shows including the 2009 International CringeFest, Pippin, and Anansi the Trickster Spider. She also appeared in the tour of Fire On The Mountain and is a singer on The Spirit of NY/NJ Cruise Line. Thanks be to God for his blessings, Mom for supporting me and to all my friends and family for always believing!
BRITTNEY MACK is very excited to be joining the cast of Ain't Misbehavin'. Brittney hails from Chicago, Illinois. She is a recent graduate of AMDA (American Musical and Dramatic Academy). She has been a part of various casts, including All Shook Up (Lorraine), The Gay Bride of Frankenstein ("Weird" Zombie Teen), RENT (Alexi Darling) The Wiz (Dorothy), Seven Brides for Seven Brothers (Liza), Little Shop of Horrors (Ronette), Kiss Me Kate (Ensemble) and Oliver (Ensemble). Brittney thanks The Lord Jesus for continuing to bless and keep her through out her career. Mommy and Mr. Daddy for the non-stop support. So…Here 'Tis. Enjoy the show!!
RYAN BOWIE is excited to return to the Roxy stage for the 28th season, this time as director and choreographer of Ain't Misbehavin'. Ryan was most recently seen at the Roxy playing a multitude of characters in Once Upon A Time, following appearances in A Christmas Carol, Around the World in 80 Days, Dracula (Jonathan Harker), Into the Woods (The Baker) and Forever Plaid (Jinx). Other professional credits include Jesus in Godspell and Hamilton in the NYC premier of Dotty Dot: A New Children's Musical, Freddy in My Fair Lady (Midwest), Jonas in The Giver (Chicago), Ryan in High School Musical (Midwest), Jack Chesney in Charlie's Aunt (Midwest), Dick in Dames at Sea (Maryland), J. Pierpont Finch in How to Succeed… (New York), and Matt in The Fantasticks (New York – tour). Training: Frostburg State University – BA Theatre: Acting & BA Music: Vocal Performance. Special thanks to Mom, Dad, Samantha, Freddy, Tom, John, Adam and this wonderful cast. Stay up to date at www.ryanbowie.com.
TOM THAYER has been Managing Director of the Roxy Regional Theatre since its inception in 1983. Training includes Austin Peay State University and Lambuth College, and he is a graduate of the American Musical and Dramatic Academy, NYC. While living in New York, he worked as a public relations liaison for the Metropolitan Museum of Art, created and taught dance programs at the Dwight School and created and taught young dramatics for the Rhodes School. He is the founder of the Clarksville Theatre Guild, as well as the Roxy Regional Theatre, and has performed off-Broadway as well as throughout the South. With Artistic Director John McDonald, he created the Roxy's Professional Company and serves as a director of the Summer Drama Camp, which is sponsored in conjunction with the Clarksville-Montgomery County Parks and Recreation Dept.
JOHN McDONALD is the founder and Artistic Director of the Roxy Regional Theatre. A graduate of the American Academy of Dramatic Arts, as an actor John has worked with the New York Shakespeare Festival, Macbeth with James Earl Jones; Long Wharf Theatre, A Lion in Winter with Ralph Waite; and productions of Long Days Journey Into Night (James); Macbeth (Macbeth); Who's Afraid of Virginia Woolf? (George); and numerous others. As an instructor, he has taught theatre at the American Academy, The Rhodes School, The Dwight School, Hewitt, and is the creator of the Roxy Saturday Workshop, an acting program for young performers. Writing and production credits include, among others, Jekyll and Hyde, The Red Badge of Courage, Dorothy Dix: Speaks!, Nora Witzel: A Very Curious Fella, The Picture of Dorian Gray, All Quiet on the Western Front, Poe Unearthed and Headin' South, Goin' North for the Fourth Annual Clarksville Writers Conference.
ADAM KURTZ (Production Stage Manager / Company Manager / Sound Designer) is a native of Detroit, Michigan. He is a graduate of Wayne State University, where he received a BFA in Theatre in Design / Technology, specializing in Stage Management. This is his third season at the Roxy, and he is excited to be back. His previous Roxy credits include A Christmas Carol, CATS, RENT, The 25th Annual Putnam County Spelling Bee, A Streetcar Named Desire, Ring of Fire, Of Mice and Men, Forever Plaid, Into the Woods, Shout, Dracula and Around the World in 80 Days, among others. While here at the Roxy, Adam has also had the opportunity and honor to function as the Sound Designer for numerous productions. He has also been able to function as the Lighting Designer from time to time. He steps into a new area this year as Projection Designer for various upcoming productions. Adam would like to thank Tom and John for this wonderful opportunity and his family (Mom, Dad, Matthew, Lucky the dog, Aunt Nancy & Aunt Karen) for all of their love, support and encouragement.