Clarksville, TN – Recently, spokespersons from the Tennessee Department of Health said that certain species of ticks that were uncommon in Tennessee are being found in new areas of the state.
The Tennessee Department of Health shared the information that tick species which used to be rare in Tennessee, such as Gulf Coast and Deer ticks, are now being found here and that tick-related illnesses have more than doubled in Tennessee since 2005.
This is due to climate changes in Tennessee. Both the Gulf Coast tick and Deer tick are associated with illnesses such as Rocky Mountain Fever and Lyme Disease.
Back in 1968 my Dad became very ill and was hospitalized at what was then Memorial Hospital. Doctors couldn't figure out what was wrong with him so a sample of his blood was sent to the CDC in Atlanta, Georgia. The diagnosis came back as "Probable" Rocky Mountain Spotted Fever. At that time it was unheard of in Tennessee to have that disease. Somehow though he probably got it or Lyme Disease, he had all the symptoms.
Today of course doctors here have seen more tick borne illnesses and can diagnose them more accurately. My Dad may have been diagnosed with Lyme Disease today, who knows?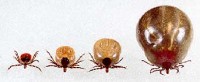 My family and I are always aware of the threat of tick-borne illnesses here and we try to prevent ourselves from getting a tick when we're outdoors. We check for ticks whenever we've been outside. You probably do some of those same things. This information will be helpful to you this summer since already I am hearing that people are finding ticks on their clothing after being outside.
Below are some of the Symptoms of Lyme Disease from the National Institute Of Health web site.
Not everyone infected with these bacteria gets ill. If a person does become ill, the first symptoms resemble the flu and include:
Chills
Fever
Headache
Lethargy
Muscle pain
There may be a "bulls eye" rash, a flat or slightly raised red spot at the site of the tick bite. Often there is a clear area in the center. It can be larger than 1 – 3 inches wide.
Symptoms in people with the later stages of the disease include:
Body-wide itching
Joint inflammation
Stiff neck
Unusual or strange behavior
Lyme Disease is usually successfully treated with a full course of antibiotics. Later stages of Lyme Disease, called post-Lyme disease syndrome, can affect a person with a multitude of physical ailments such as arthritis,decreased concentration,memory disorders, nerve damage, numbness, pain, paralysis of the face muscles, sleep disorders and vision problems.
Here is how to prevent ticks from attaching to you when you're in the woods or hiking:
Spray all exposed skin and your clothing with insect repellent. My husband's method of using powdered sulfur in his shoes seems to work well, too.
Wear clothing that is to make it easier to spot ticks.
Wear boots, preferably rubber ones.
Wear long-sleeved shirts and tuck your pants into your boots or shoes.
Check yourself for ticks frequently while you're outdoors.
Check your pets too.
Ticks that carry Lyme disease are very tiny and hard to see, so check carefully. If you find a tick but don't feel sick, then don't worry. If you do begin to feel ill, see your doctor as soon as you can so you can start those antibiotics.