APSU Men's Golf

Glencoe, AL – Sophomore Dustin Korte's record-setting day has Austin Peay State University men's golf team in first place with a two-shot lead after the first two rounds of the Grub Mart Intercollegiate, Monday.
Korte's second-round 65 tied the tournament's 18-hole mark while his two-round 136 is the Grub Mart's 36-hole record. The sophomore takes a three-shot lead into Tuesday's final round, but more importantly has the Govs sitting atop the leaderboard for the first time in a while.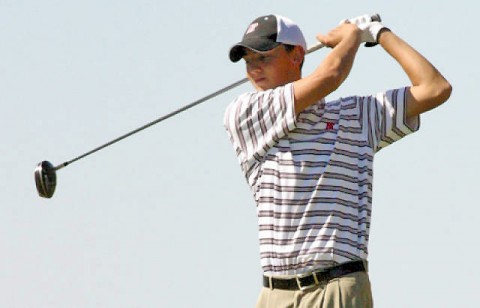 "The guys played with some confidence today and it paid off," head coach Kirk Kayden said. "This is a course where you have to play the correct tier of the green and we did a good job with that. We hit a lot of good second shots and put ourselves in good positions."
Austin Peay's two-round 569 has them ahead of host Jacksonville State (571) and Eastern Kentucky (575). Belmont, Nicholls State and Columbus State are all tied for fourth at 582.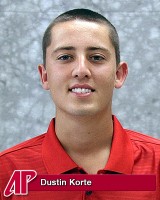 On a cold, damp and windy day, the Govs found results with a team that lacked tournament experience. Behind Korte was freshmen Anthony Bradley (71-71=142) and Marco Iten (74-69=143). A pair of juniors – Drew Miller (75-75=150) and Logan Loftus (73-78=151) – rounded out Austin Peay's lineup.
After the first round, the Govs were in second place with consistent scores throughout the lineup. In fact, only being allowed to count four scores, Austin Peay had to throw out Miller's 75. A tournament earlier the Govs had counted at least two 75s in each round.
After seeing the course, the Govs were even better in the second round. Along with Korte's record-tying 65, Iten fired a career-best tying 69. Bradley would add a 71, making three under par for the Govs and the first rounds in the 60s this spring. As a team, the Govs posted the tournament's low round with a 280.
Now Austin Peay is tasked with maintaining this pace for a final-round 18 holes, Tuesday. The Govs will be paired with familiar foes in Jacksonville State and Eastern Kentucky – a grouping that many times has met during the Ohio Valley Conference Golf Tournament. 
"I was real happy with our opening round and then we came out and shot nine strokes better in the second round," Kayden said. "To be able to come down here and challenge Jacksonville State on their home golf course is important for us. We've got some young guys playing really well and we've got to keep it going now. We've got 18 holes to play."