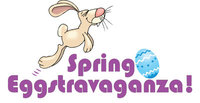 Clarksville, TN – The City of Clarksville Department of Parks and Recreation held their annual Spring Eggstravanganza easter egg hunt Saturday at at the Heritage Park Baseball Fields. Separate hunts were held for kids in four different age groups, with more than 30,000 eggs shared between them. Scattered among the eggs were special golden eggs, which entitles the finder to a free week session of swim lessons at one of Clarksville Parks and Recreation's pools.
It's an amazing thing to watch as these children, no matter their age, can vacuum up 15,000 eggs in just a few short minutes. The Age groups this year were 2 years old and under, 3-5 years old, 6-8 years old, and 9-12 years old.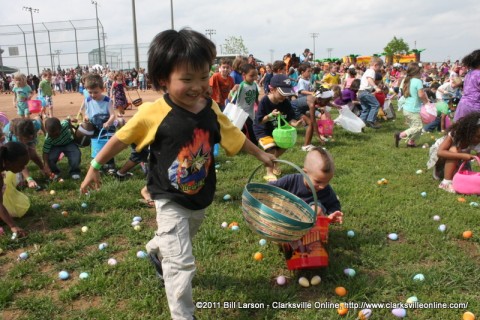 Clarksville Family Magazine sponsored a visit by a petting zoo to give the children a chance to have a few minutes of contact with various types of farm animals. In addition to the petting Zoo, there was games, face painting, and various races. The Easter Bunny paid a visit to the event, posing for pictures and handing out some of his own eggs to the children.
The 2011 Spring Eggstravaganza was made possible by the City of Clarksville, WJZM 1400 AM, Clarksville Family Magazine, Lamar Advertising, The Leaf-Chronicle, and Five Star Radio.
Video
Photo Gallery