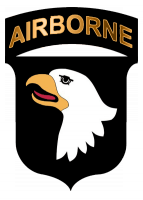 Fort Campbell, KY – Early Sunday morning 217 soldiers with the 2nd Brigade Combat Team returned to Campbell Army Airfield.  Even a slight delay on the arrival didn't damper the spirits of friends and family who gathered to welcome home their soldier.
With the first sighting of the plane, word quickly spread through the crowd and cheers broke out across the tarmac.  Once the aircraft was on the ground, signs and banners quickly went up along the fence. There were plenty of cheers and tears of joy.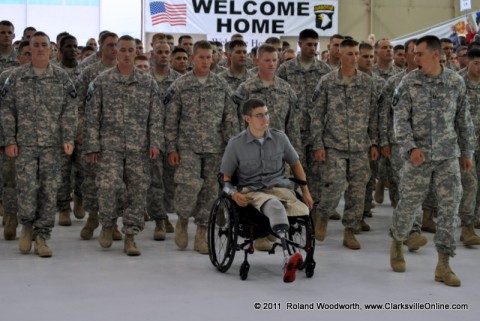 As soldiers made their way from the plane, they filed single file to be greeted home by wounded soldiers from their unit that gathered to help welcome them home.  One soldier stood up from his wheel chair and braced himself using a walker. Many shook hands and even gave him a big hug as they passed.
Once everyone soldiers were formed up just ofside of hanger 3, the doors opened wide  and soldiers marched inside lead by the wounded soldiers who greated them. Inside  Brigadier General Jeffrey N. Colt welcomed everyone home in a short speech to the soldiers.  Afterwards everyone was allowed 15 minutes of family time before heading back to their unit to turn in their gear.
Once soldiers were released, it was a race across the hanger floor as friends and family members searched for their soldiers.
SPC Michael Land is greeted by his wife Brittney, along with their 3 month old child and his father Tommy Land. He was thrilled to see his family and is looking forward to spending time with them.  
Time seems to go by so fast as the announcement for all family members to return to their seats and soldiers are called back to formation.
If you wish to attend a Welcome Home Ceremony, check the flight schedules online, as times are subject to change at anytime. When arriving to Fort Campbell, enter via Gate 7; if you don't have installation stickers on your vehicle, you will be required to get a visitor pass. From there just follow the signs to the ceremony parking. Waiting buses transport family members safely to the hanger.
Photo Gallery