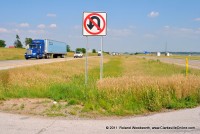 Oak Grove, KY –  An early morning wreck shut down the east bound lanes of I-24 for most of the day in Oak Grove, Kentucky.  According to Christian County Deputy Sheriff Ken Roberts, A red Ford Explorer driven by Sylphelia Joiner from Paducah was traveling east on I-24. The driver missed her exit and was attempting to make an illegal U-Turn in the median near mile marker 87 when she pulled out in front on an oncoming 18 wheeler driven by Gary Lee Kestner from Savannah, MO. who was traveling west on I-24
Kestner struck the front of the Ford Explorer and lost control, them crossed into the median and into the east bound lane where his truck turned over onto a black Ford Explorer driven by Scott Jackson of Fort Campbell, KY who never saw the truck coming his way.
The scene was covered in cucumbers scattered all over the interstate after the trailer wall was torn open. Workers worked all afternoon to clean up the mess and hauled it to a local landfill.
Lifeflight was called out to transport Mr Jackson to Vanderbilt Medical Center in Nashville. Although it was later discovered there were no life threatening conditions to Mr Jackson, he was still transported since the helicopter was already there for further evaluations.
The driver of the Red Explorer Sylphelia Joiner and her sister Silvia Joiner, who was a passenger along with Gary Lee Kestner were all transported to Gateway Medical Center in Clarksville for further evaluation.
The Kentucky Vehicle Enforcement was called in to inspect the semi-tractor trailer and there were no issues reported.
The good news is there were no serious injuries from todays accident. However all three vehicles were a total loss according to Deputy Roberts.
Traffic alone the eastbound lanes of I-24 was re-opened by 5:00 pm
Ironically, three of the four people involved shared the same birth date.  The most serious injury was to the cucumbers.
Photo Gallery