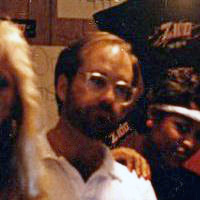 In the mid seventies, I was a young, newlywed advertising salesman in Clarksville.  I had just been hired at the WJZM 1400 AM  radio station and was calling on customers, when one day, Tim Polk, a local pharmacist, asked me if I wanted a free trip to Gatlinburg Tennessee. "Sure, what's the catch?" I responded. He said that Bud Willis was one of three Tennessee Outstanding Young Men, and he would be honored at the Jaycee convention in Gatlinburg.
So I said, "who's Bud Willis?" (not that it mattered, because, remember, free trip to the mountains).  Polk said he was the local manager of the JC Bradford office here in Clarksville, and was a really great guy, and it was an honor for the Clarksville Jaycees, and they needed somebody to do a presentation about him in front of the convention, and since I was in radio, I should be able to do it.
Now, I've always thought if was funny that being in radio equates to standing in front of thousands of people and talking into a microphone, since in radio, I don't actually SEE anybody, and don't hear them talking back to me, but I digress.  I said "sure", "why not".  So the Jaycees put together an elaborate presentation about Bud, the Vietnam War Veteran, his accomplishments, yadda yadda yadda, and all I had to do was read it.
So, we get to Gatlinburg, check in and go see the sights.  The next day was rehearsal.  It was not until that time that it hit me what a big deal this was, and how many people were actually going to be there.  And, oh did I mention, the keynote speaker was Governor George Wallace of Alabama.   He was running for President at the time, and that means, Secret Service agents would be involved.
Now I've realized what a big mistake I've made, free trip to the mountains be damned, I was "freaked".  At the rehearsal lunch I sat next to the late great Conway Twitty.  "Hello Darlin".  Are you kidding me.  This was a big deal.  OMG!  So anyway, the rehearsal went great.  That night, as I was barely able to hold down my dinner, the lights grew dim, and the program began.  I would be giving the last presentation, so I would be able to see what I was up against, and make a quick exit if I could sneak past the secret service.
Well, the first two did not go well at all.  The pressure was on, and remember, I didn't even know who Bud Willis was.  I hadn't even met the guy, and now my membership into the Jaycees hung in the balance of me doing him justice.  So, this giant of a secret service agent taps me on the shoulder, and off to stage left we go.
When I was announced, I stepped onto the stage in front of thousands, with Governor George Wallace and other dignitaries and calmly stepped to the microphone and told the wonderful story of Bud Willis.  Vietnam War hero, businessman, husband and father.  It was an amazing experience for me, and I've met rock stars, celebrities, and politicians of all kinds.  You need to meet Bud Willis, shake his hand, and thank him for his service to this country.  It won't get you into the Jaycees, but you will thank me for it later.
Bud Willis will be holding a Book Reading and Reception in the Franklin Room at F&M Bank (50 Franklin Street) on Friday from 3:00pm till 6:00pm. Come on out, buy one of his books, meet the author, and hear his story from his own lips.
About Bud Willis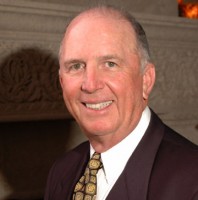 Named Tennessee's Outstanding Young Man for service to his community, state and country, Bud Willis has been well recognized for his first book, Bluestocking, released in 2009, now in its second printing.
A native Tennessean, Willis grew up in Tullahoma, and graduated from Tennessee Tech University, Cookeville. There, Bud served as editor of the campus literary magazine. His professional career extended through 34 years in the securities industry as Partner with J.C. Bradford and Company. As a successful business man, public speaker,and humorist, his spirited Southern writing style engages readers quickly, with pathos, humor, and new knowledge regarding the lives and labor of young, Marine pilots serving in the mid-60?s in Vietnam. Currentlysemi-retired, Bud lives in Naples, FL with his wife and best friend, Lee. Bud can be reached at: budsvilla@aol.com, or at 16719 Pistoia Way Naples. FL 34110.