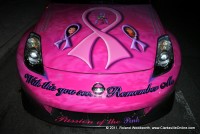 Clarksville, TN – Thursday night, the Passion of the Pink  made a stop in Clarksville.  The car is called Nissy and she is driven by Adam Miller who is on a mission to bring awareness to Cancer. Adam set out on a mission to drive Nissy coast to coast to help raise cancer awareness in general and to raise money for the Christie Clinic in Champagne, IL.
Starting the trip on May 26th, his first of 15 scheduled stops in Seattle will take him 6,500 miles across the country to the east coast and looping back to Gifford, IL, where he will present his donation check to the Cancer Center at the hospital.
Adam made a stop here in Clarksville to visit with family members for a few hours before hitting the road heading North to Champagne, IL.
Along the way people are signing the car as Nissy and Adam make their way across the country. Any donations for the cause is greatly accepted. 
Adam who is a military veteran, having seen action in three wars, from Bosnia to Operation Iraqi Freedom. He is currently serving in the reserves and resides in Richland, WA.He has dedicated  Nissy is  to cancer showing multiple cancer ribbons and also dedication stickers for each branch of  our military.
Most of Adam's family has experienced the pain and suffering of the horrific disease cancer. His mother was diagnosed with skin cancer. One aunt has passed. Out of Adam's six aunts, three of them have had some form of cancer: One with breast cancer; one with brain, lung and skin cancer; and one with thyroid cancer.
Nissy and Adam have made it easy for anyone to donate to the cause.  Donations for trip cancer patients, and oncology sholarship,go to Bank of the West 7525 W. Canal Dr. Kennewick, WA 99336…Pay to…(FBO) "For Benefit Of", passion of the pink
You can follow updates along the way on facebook as Nissy and Adam log their journey across the country.  Be sure to visit the website and facebook page to get complete details of their mission, route and much more.
Be sure to let Nissy and Adam know you seen their story here on Clarksville Online.
Photo Gallery
About Roland Woodworth
My name is Roland Woodworth, a professional REALTOR® with the experience & knowledge to assist you with all your real estate needs. My main area of focus is Clarksville TN , Oak Grove KY and the surrounding areas. I have over 12 years experience in the Real Estate industry and I'm a full time Realtor licensed in both Tennessee and Kentucky. I'm also a NAR Certified Short Sale & Foreclosure Resource.

I moved to Clarksville while stationed in the US Army at Ft Campbell, KY in 1992. I have been in sales in the area since 1996. I received my Real Estate license in 1999.   I have been involved in many community organizations including the Clarksville Area Chamber of Commerce where I was a Chamber Ambassador for 5 years. I was the Fair Chairman for the 2002 North Tennessee State Fair in Clarksville, TN, and also president of Fair Inc which is the governing board consisting of members of the Clarksville Jaycees, City of Clarksville and Montgomery County. I'm  also a member of the Clarksville Jaycees Volunteer Col. Corp. a past member of the Clarksville Jaycees and the Downtown Kiwanis Club. I participated in the 2005 and 2009 Clarksville Extreme Makeover Home Edition builds here in Clarksville – Montgomery County.

Web Site: http://www.ClarksvilleHomeInformation.com
Email:
Sections
News
Topics
cancer