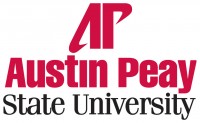 Clarksville, TN – In its heyday, the Woodstock Plantation, where the famed advice-columnist Dorothy Dix was born and raised, was a sprawling 5,000-acre farm that stretched from Montgomery County on up into Todd County, KY. The Meriwethers, a prominent 19th century farming family, owned the enormous estate, and their influence lingers in the area with roads and neighborhoods still bearing their name.
"They're a very important family in this area," Christopher Burawa, executive director of the Austin Peay State University Center of Excellence for the Creative Arts, said.
Earlier this month, Burawa met with two descendants of the Meriwether clan – cousins Nelson Campbell and Margaret "Moggie" Henry. The women traveled from their home in Chattanooga to APSU to formally donate early 19th century portraits of Charles Nicholas Minor Meriwether and his wife Caroline Huntley Barker Meriwether, two of the founders of Woodstock, and their oldest daughter, Nancy Minor Meriwether Ferguson.
"We're exceptionally honored that Nelson and Moggie thought to bestow these with Austin Peay. We will take care of them and treasure them," Burawa said.
For more than 80 years, the three paintings were on display in a house owned by Campbell and Henry's grandmother, Margaret Douglas Meriwether Campbell. They will soon be prominently exhibited on campus, following some minor restoration work on the portraits.
"The importance for us, the Center, is that we can not only have these and treasure them as part of the University collection, but they can be used for teaching purposes to illustrate to our students techniques of 19th century portraiture," Burawa said. "It can also be part of cross disciplinary courses. We can talk about the history of the time period, what the culture was like here."
Dr. Dixie Webb, an art historian and dean of the APSU College of Arts and Letters, said the portraits of the husband and wife appear to be the work of a professionally trained artist who studied both anatomy and portrait painting. The painting of the daughter, however, is likely the work of an "itinerate portraitist," who traveled the country, quickly turning out paintings for clients.
Webb said that piece exhibits "the whimsy today's avid audience of collectors and admirers of early American portraiture appreciate. "In this sense these portraits fall within the American folk art tradition and are a splendid addition to Dr. Joseph Trahern Jr.'s recent gift of William Edmondson sculptures as well as the Enoch Tanner Wickham sculptures on campus."
For more information on the portraits, contact Chrissy Booth, director of major gifts at APSU, at boothc@apsu.edu.