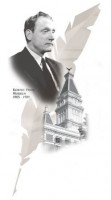 Amy Greene, first day keynote speaker at the Seventh Annual Clarksville Writers' Conference, has done something that few writers can boast. Her first novel was snapped up by Alfred A. Knopf, a major publishing company, within one week of its being offered by her agent. The chances of this happening are so minute, it doesn't even bear calculating. She hadn't even sold a short story prior to that.
Bloodroot, Amy's novel about a mother and her twins who live in Appalachia, was read by Jill McCorkle (author of five books on the New York Times Notable Books list) at the 2007 Sewanee Writers' Conference. McCorkle was so impressed that she offered to put Amy in touch with agent Leigh Feldman when the book was finished.
"I hurried home and finished my novel so she wouldn't forget," Greene admits.
Every year on or near her birthday, Amy Greene makes a pilgrimage to Dollywood. While she was there, she received a call from Leigh Feldman who said she would be sending Bloodroot to 10 major publishers. She asked Amy if she wanted to hear about the rejections too. When Amy said she did, Leigh warned her that if she received a call from her during the first week, it would most likely be a rejection.
Amy said she was trying to conceal the fact that she was at Dollywood but when the train went by, she had to confess.
Amy revealed, "That week I saw her number and she said we had an offer, a preemptive offer, which means they wanted us to rescind offering it to the other publishers. It was the best ever!"
On Wednesday, the night before the Clarksville Writers' Conference opened, Amy spoke to the Tennessee Young Writers Workshop (sponsored by Humanities Tennessee and the APSU Center of Excellence for the Creative Arts).  She told the students, all of whom had completed grades seven through 12, that what inspired her to write Bloodroot was the beauty of Hamlin County where she grew up. She said when she was a child, she explored the woods around her home but at the time she felt that no one would want to hear what she had to say.
A young girl in the audience asked Amy what a "haint" was because she had never heard that word. Amy explained that it is a spirit and told her that "haint blue" is an aqua color that many mountain people paint on doors and other parts of their houses because they believe ghosts can't cross water.
On Thursday morning, she told the audience during her keynote speech that she had always been inspired by life in a rural community with farmers and factory workers where she observed that people didn't have as much as other people. Her goal was to get a scholarship and move to Boston because New Kids on the Block lived there.
"I met my husband, Adam, when I was 15 and we decided to get married when I was 18. Students, don't do this! It was really hard and scary because at 19, I found out I was going to have a baby. Inside I had always felt that I was a black sheep but here I was married and not doing the things I had planned. After my son was born, I didn't have as much time to write. My mother helped me through that. She had followed her heart just like I did. I now have a 15-year-old son, Taylor, and a daughter named Emma. I've been able to use much of my own experience in Bloodroot."
Amy Greene gives her parents a great deal of credit for supporting her dreams. "Although my dad worked in a factory and my mom cleaned houses and worked in tobacco, they never told me I couldn't be a writer. My father was a wonderful painter but he would never have thought of going to art school because he was told that he couldn't support a family by being an artist.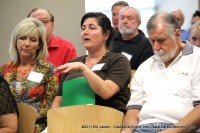 Her method of writing Bloodroot was unconventional according to what some college professors tell their writing students. She wrote the book beginning with examining the character of a woman with twins hiding out from some danger in the Appalachians. The story began to emerge with several voices that Amy fought to hold on to throughout the writing. She insisted that the book was just emerging from within her. She insisted that putting all the voices together was like putting a puzzle together with a time line where all the little details have to be right.
"I started writing about the lives of my characters and experimented. I didn't even know their names. I think of them as real people. I waited to see what would happen with the story."
Although she had begun writing when she was in first grade and had never published before, Amy Greene views Bloodroot as "a love letter to home."
She had actually begun another novel before Bloodroot but after going to a writers' conference at Duke, she realized that the original novel was not going to work and had to be abandoned. "I had this idea that you'd have to write a lot of short stories before you could get an agent," she remembered. At the Duke workshop she had an epiphany. For the first time she was part of a group of other people doing the same thing she was. When she reached home, she began to write Bloodroot.
"It was my heart and soul."
One of the hardest parts of writing Bloodroot was putting all the voices together and making a cohesive story. "I was inspired by reading All the Pretty Horses where the characters speak as I speak," she said. Amy loves books about Appalachian culture and they helped her realize that the problems of people there are universal.
Amy drew from the admonitions of folklore from her childhood in writing the book. She had been told, for instance, never to pick up a bag beside the road because it might have somebody's warts in it. She weaves a "cure" for thrush (called "thresh" in the mountains) masterfully into the plot of Bloodroot. (Thrush is a yeast infection of the mucus membrane lining of the mouth and tongue.)  Myra has her mouth breathed into by a "man who didn't know his daddy" (the criteria necessary to cure thrush according to mountain lore). Myra goes to the home of a man named Clifford and "he blowed warm wind in my mouth and down my swelled-up throat." Both Myra and her grandmother "felt the power."
Don't imagine that writing her novel was easy.
"I got to this point where I was stuck. My husband made me a CD of a Bloodroot sound track. It was just a mix of beautiful music. I went to a room alone and listened to the music. It was exactly what I needed. When I feel dry now, I listen to music."
Sometimes she writes 12 hours a day and during some weeks, she exhausts herself with writing. Some days she can't write at all. She doesn't treat writing like a job. She plays it by ear and admits to being "flaky" about it.
One of the unusual aspects of Amy Greene's first novel was that she had no outline. "I wrote these elaborate character sketches and had multiple narrators. It was a gargantuan and grueling chore to put it together. I asked questions of my characters that I've asked of myself. Are people formed by abuse in childhood? Can people overcome their inherited traits and circumstances?"
Bloodroot was her original title. "I found it by thinking about a name for a mountain. I'd heard of bloodroot and did some research on it. It's a delicate white flower that is the first flower of spring. The root bleeds red sap and has healing powers. It is a paradoxical flower because it has both beauty and harshness."
Now Amy Greene is writing her second novel, The Spirit of the Tennessee River. As usual, she writes in longhand, sitting on her bed "with the covers pulled up."  This book is based on a missing child before an area is going to be flooded. She's had to work through many editions and has had to research the Depression era to be accurate historically. Amy much prefers to just write about the characters.
"All this research is just like school," she concluded, "and I don't like it!"
Photo Gallery
Video
Clarksville Writer's Conference Keynote
Tennessee Young Writers Conference Reading