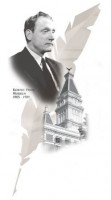 Named Tennessee Writer of the Year in 2007 by the Tennessee Writers Alliance, Darnell Arnoult is both a novelist and poet. Her Southern novel is Sufficient Grace and her poetry is found in What Travels with Us: Poems; the latter is winner of the Appalachian Studies Associations' Weatherford Award and the 2006 SIBA Poetry Book of the Year. She is also published in a variety of journals and is one of the driving forces of Lincoln Memorial University Mountain Heritage Literary Festival each year. She will be Writer-in-Residence at Lincoln Memorial University this fall. Recently she was awarded the Mary Frances Hobson Medal for Arts and Letters.
A featured speaker at Clarksville Writers' Conference this year, Arnoult impresses on her audience, "Not all writers are published. I want to encourage everyone to think of yourself as a writer as long as you write. I want to compliment you for following your passion. Emily Dickinson wrote a lot of poems for only herself."
Quoting a dear friend, she reminds everyone that to be a writer, "All you need is food and a pen!"
Arnoult, who teaches workshops in many venues, has a number of suggestions for writers.
One exercise she likes is to choose a letter of the alphabet and write as many one-syllable words beginning with that letter as you can think of. This helps any writer get excited about language. She feels that this is the key to good writing. The follow-up exercise is to write an entire story using only words of one syllable; this focuses all your attention on language itself.
Darnell admonishes writers to look for language that makes you pay attention, noting that William Gay and Cormac McCarthy are good examples of writers who produce the kind of sentences to which she is referring.
Writing sentences that have power is tantamount to writing excellence, she says.
Darnell likes to insist that writers avoid the following: adverbs ("Look at nouns and verbs—really rich ones and you won't need an adverb"), abstraction (Leaving your reader wondering is not a path you want to take"), authorial intrusion, and the word as in linking sentences together. She asserted that it is much better to say, "He walked down the street. It began to rain," than to link the two with "as" since it weakens your prose.
To avoid authorial intrusion, you must not allow your own voice to become obvious in your novel. You have to find a voice for your novel, reminds Arnoult.
Writers need to use all their senses—seeing, feeling, tasting, smelling–to get physical space representations. The setting comes alive this way.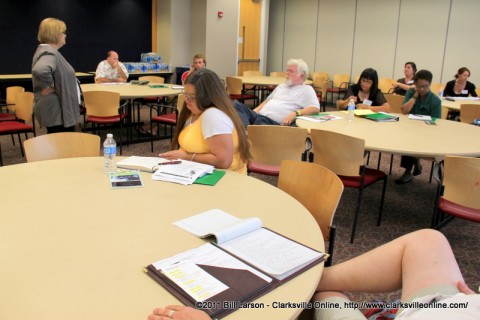 She asserts that there is a difference in editing and revision. "Revision is looking at how you can say this better. Editing is fixing grammar, basic rules, etc." Darnell writes many scenes with concrete objects and gestures.
"Our unconscious makes meaning out of things all day and night. Human beings think in stories," she says.
A writer who keeps voluminous journals, Darnell explains, "One day a whole character walked into my novel. I collected objects and gestures in my notebook. Norvis Dibner walked on and I didn't know anyone with either name. It's a rush. You see pieces but your subconscious gives you the whole."
Another key to successful writing, Arnoult claims, is to read your work actively the way a reader reads your work. If you read Hawthorne, you'll get something new every time you read it because Hawthorne layers his meanings, she says.
To summarize, Darnell Arnoult quoted Robert Morgan's three levels of a novel—
1. The local level—just the words. This is the way you use vocabulary in your writing (similar to amending the soil in your garden).
2. The episode—prompts to get at the story of the novel. "As you look at physical objects, you begin to weave a tale," she relates.
3. The story-symbolic complex –the theme that is organic to your characters' experience. "This gives you a chronological order. It's called the theory of completion. Novels can have all kinds of patterns. Some stories are told out of order. You have to decide. What shape does the story need? Don't rule out possibilities beyond chronological order," Arnoult explains.
"These three combine to form sublime fiction. You started with character and language. Then you've made them act so you have action.
"If I get stuck, I may rewrite some scenes in different points of view. First person limits you. Third person omniscient gives you more of the story. I'll know more if I use this way of showing the story. I'll experiment a lot with point of view. You can have more than one point of view from select characters."
In conclusion, Darnell talked about a student she once had. The girl just kept writing disjointed fiction. "I write in thoughts," the student explained.
Darnell worked with her by explaining that stories are what people understand. You can't just write down whatever comes into your mind willy-nilly. By the end of the summer session, the girl changed her method and became an excellent writer.
In fiction, if you don't have a story, you've missed the boat.