APSU Sports: Men's Basketball

Clarksville, TN – Austin Peay State University's final three games and site have been determined for the 11th annual College Basketball Experience (CBE).
After playing at California in an ESPN2 regional-round contest, Tuesday, November 15th, in Berkeley, CA, the Governors three subregional-round games will be played at the new Stroh Center in Bowling Green, Ohio, against host Bowling Green, 6:00pm (CST), Monday, November 21st; George Washington, 4:00pm, Tuesday, November 22nd, and Detroit, 4:00pm, Wednesday, November 23rd. The road swing actually will commence with the Governors traveling to Tulsa, OK, Saturday, November 19th, to play Oral Roberts in a return game of the 2010 ESPN BracketBuster series. APSU will fly from Tulsa to Ohio after that contest.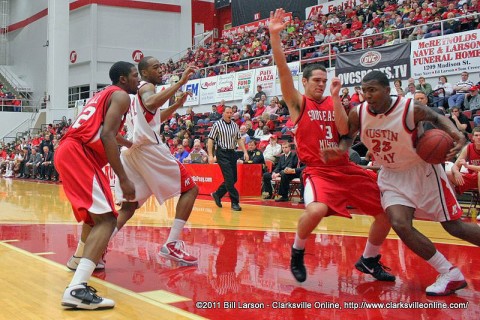 Bowling Green returns seven players, including the team's top four scorers, who started at least nine games from a team that went 14-19 a year ago and lost in the Mid-American Conference tourney quarterfinals. Junior A'uston Calhoun (12.5 ppg) and senior Scott Thomas (11.2 ppg, 6.7 rpg), both 6-7 forwards, were named to the MAC all-league team. Former NBA forward Louis Orr is in his fifth season as the Falcons' head coach.
George Washington, after a 17-14 season, has a new coach in Mike Lonergan, who enjoyed an impressive six-year stint at Vermont. George Washington tied for fourth in the Atlantic 10 a year ago and returns senior Tony Taylor (15.0 ppg), a second-team all-A-10 selection, junior Dwayne Smith (9.3 ppg) and sophomore Nemanja Mikic, who led the nation's freshmen in three-point field goals percentage (.436) in 2010-11.
If the Governors first two games in the Stroh Center are difficult, the final game may be their toughest. Detroit returns everyone from a team that went 17-16 last season. Sophomore Ray McCallum, son of the Titans' head coach of the same name, was selected to the Freshman All-America team by collegeinsider.com and is a member of the 2011 USA World University Games team. Senior Eli Holman (11.8 ppg) was named to the collegeinsider.com Mid-Major Defensive All-America team and led the Horizon League in rebounds at 9.6 rpg in earning second-team all-league honors.
The Governors are coming off a 20-14 season that saw them compete in the College Basketball Invitational. The Governors are led by first-team all-Ohio Valley Conference senior guard TyShwan Edmondson, who averaged 17.1 ppg, and forward Josh Terry, who ended at 11 ppg. Redshirt junior Anthony Campbell, a 2009-10 second-team all-OVC choice, averaged 13.9 ppg a year ago before suffering a season-ending December knee injury. Head coach Dave Loos will begin his 22nd year as head coach and has 351 APSU victories
The CBE Classic is produced by the Gazelle Group in Princeton, NJ. The Gazelle Group is a sports marketing firm, specializing in event production and management, client representation and sponsorship consulting.
The event is named after the College Basketball Experience, the award-winning and interactive college hoops fan facility in Kansas City adjacent to Sprint Center, which also features the National Collegiate Basketball Hall of Fame. Opened in October 2007, the College Basketball Experience is the nation's only facility that celebrates, in its entirety, the sport of men's collegiate basketball. The tournament, in partnership with the National Association of Basketball Coaches (NABC), was initially established in 2001 as the Guardians Classic.