APSU Sports: Women's Volleyball

Murfreesboro, TN – In what proved to be a very offense-minded match, late miscues cost Austin Peay State University's volleyball team as they dropped a three-set decision to Missouri (19-25, 22-25, 21-25), Friday afternoon, at the Murphy Center.
Austin Peay (1-4) recovered from its offensive doldrums suffered in the day's first match, posting 39 kills and a .242 attack percentage against Missouri. The Lady Govs offense was particularly potent in the first two sets, posting 14 and 16 kills respectively, but still suffered narrow losses to a Tigers squad that was receiving votes in this week's AVCA national poll.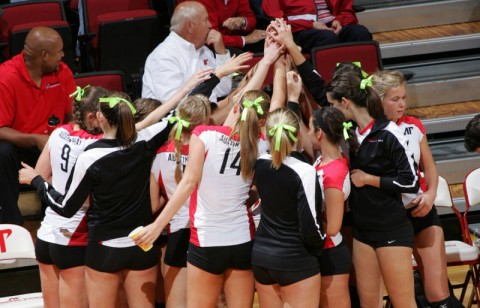 "That match was definitely our best offensive performance this season," said Lady Govs head coach Bill Egbert. "All of our attackers did a great job and the box score doesn't indicate how well we performed. (Freshman setter) Cami Fields had a great outing, she played right with the national player of the week from Missouri (setter Molly Kreklow)."
Missouri's (5-1) offense, which entered the weekend leading the Big 12 with a .415 attack percentage, continued pounding away in their only Friday action.
The Tigers finished the match with 42 kills and a .322 attack percentage. Missouri opened the match with an incredible 16 kills and .565 attack percentage in the opening set before cooling off slightly in each of the two remaining sets.
However, the Lady Govs problems centered on the each set's final points. Austin Peay tied the second set, 18-18, but committed five errors in the final 11 points, including a service error on set point to allow Missouri to escape. In the third set, Austin Peay was within one point, 19-18, but surrendered a pair of attack errors and a service ace to allow Missouri to build a three-point lead which they did not surrender.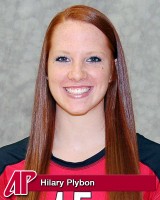 "We lost three seniors and have a young team in general so we are still learning how to fight through the late stages of the game," said Egbert. "We are playing really well, very close, with some very good teams. We just have to learn how to punch through at the end."
Junior outside hitter Nikki Doyle led Austin Peay with 13 kills, including a six-kill second set performance, and finished the match with a .370 attack percentage. Freshman middle blocker Hillary Plybon had several impressive drives and finished with nine kills and a .533 attack percentage.
Emily Watson led Missouri with 12 kills. Brittney Brimmage had 10 kills and an impressive .692 attack percentage.
Austin Peay returns to action with a noon, Saturday contest against Auburn.