APSU Sports: Women's Volleyball

Indianapolis, IN – After a weekend where its offense showed steady improvement, Austin Peay State University's volleyball team will seek to maintain that momentum in its three-match stay at the Butler Invitational, Friday and Saturday.
The Lady Govs will meet Central Michigan in a 1:30pm (CT), Friday contest before facing host Butler at 5:00pm that day. Austin Peay will meet  Elon at 1:30pm, Saturday, in their final match of the tournament.
Austin Peay (2-5) returns to action after posting a 1-3 record at the MT Blue Raider Bash, last weekend. The Lady Govs dropped its first three matches to the likes of Florida International, Missouri and Auburn before posting a four-set win against East Tennessee.
The Lady Govs' results were not indicative of the team's performance as the offense enjoyed a productive weekend, averaging 11.9 kills per set while posting a .232 attack percentage, improving those numbers from the opening week.
Junior outside hitter Nikki Doyle led the offensive effort with 49 kills (3.40 kills per set) and a .264 attack percentage. Senior outside hitter Kayla Grantham followed with 35 kills (2.50 kills per set) and a .226 attack percentage.
However, the weekend's pleasant surprise was Austin Peay's middle blocker corps. Freshman Hillary Plyon led the group with 34 kills (2.43 kills per set), a .388 attack percentage while chipping in seven blocks. Calyn Hull had 25 kills (1.92 kills per set) with fellow sophomore Lauren Henderson adding 19 kills and a team-best 16 blocks (1.14 blocks per set).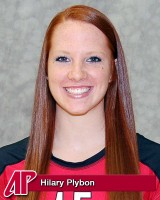 "Hillary has shown some big improvement from the first weekend to the second," Egbert said. "She was nearly a non-factor in the opening weekend. However, she probably had her breakout weekend at Middle Tennessee. She has shown the most improvement of anyone in the first two weeks."
The Butler Invitational will provide an opportunity for Austin Peay to continue its improvement with the start of Ohio Valley Conference play just seven days away. Only one of the tournament's four teams will enter the tournament with a winning mark.
"Our expectation is to come back with three wins from this weekend," said Egbert. "There are three teams we can compete with if we play like I know we are capable. We are going to have to show up ready to play each day."
Central Michigan (2-3) split a pair of matches last weekend at the Oakland Tournament, posting a three-set sweep of Wright State. Kaitlyn McEntire has led the Chippewas offense through two weeks with 50 kills (2.78 kills per set). However, Central Michigan's defense has done the hard work, holding opponents to under 10 kills per set and a .143 attack percentage.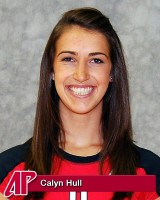 Butler (2-6), the defending Horizon League regular-season champion, opened the season with five straight losses but has won two of its last three, including a Tuesday home-opening win against Chicago State. Senior middle blocker Maureen Bamiro (2.71 kills per set) and freshman outside hitter Kelly Kyle (2.65 kills per set) lead the Bulldogs offense, which is averaging 12.2 kills per set but at an inefficient .171 attack percentage.
Elon (6-2) went 2-1 at the South Carolina Tournament last weekend, downing UNC Asheville and Gardner-Webb before losing to host South Carolina. Senior middle blocker Caroline Lemke has been impressive in the early going, with 78 kills (3.00 kills per set) and an impressive .409 attack percentage.