Trooper Dwayne Stanford Returned Fire, Shot and Killed Male Passenger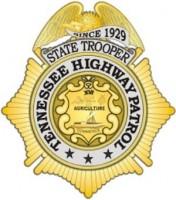 Nashville, TN – A Tennessee state trooper is recovering Thursday after being shot in the chest by a passenger in a vehicle during a traffic stop Wednesday evening on Interstate-40 in Henderson County.
Trooper Dwayne Stanford was returning to Jackson from training in Nashville when he pulled over a vehicle for traffic related violations at approximately 5:20pm in the west bound lane of I-40 near mile 115. Trooper Stanford took the female driver, Christi Pepper, 47, of Cadiz, KY, into custody for an outstanding criminal warrant. Trooper Stanford placed Pepper into his patrol car.
While returning to the stopped vehicle, a male passenger, Robert Cunningham, Jr., 50, also of Cadiz, KY, stepped out and fired a weapon at Trooper Stanford. Trooper Stanford returned fire, and shot and killed Cunningham.  Trooper Stanford was shot once in the chest during the incident. He was wearing a bullet-proof vest. Trooper Stanford was transported to Jackson-Madison County General Hospital in stable condition. He is expected to make a full recovery.
The Tennessee Bureau of Investigation is investigating the shooting. Trooper Stanford has been relieved of duty with pay until the conclusion of the investigation, which is standard procedure in any trooper shooting incident.
"Our state troopers face dangers every day, especially during traffic stops. Trooper Stanford's experience on I-40 is an unfortunate reminder of that," Department of Safety and Homeland Security Commissioner Bill Gibbons said. "Our state troopers are Tennessee's finest. When citizens encounter state troopers, I hope they will take just a moment to thank them for their public service, courage, and sacrifice," Gibbons added.
"Trooper Stanford is one of our best and brightest troopers on the road. He is well respected by his peers and the command staff. His training and experience helped save his life," Tennessee Highway Patrol Colonel Tracy Trott said.
Trooper Stanford joined the Department of Safety and Homeland Security in 2002 as a Communications Dispatcher and was later commissioned as a State Trooper in 2007. His initial assignment was as a Road Trooper in Fayette County until being transferred to Henderson County in the Jackson District in 2008.
Trooper Stanford earned the 2010 Trooper of the Year honor for locating a juvenile who was kidnapped out of Maryland within 20 minutes of an AMBER Alert notification. He arrested the suspect without incident and preserved potential evidence in the case. Trooper Stanford was also recognized in 2010 as one of the top 10 Troopers in DUI Enforcement with 30 arrests.
Trooper Stanford is a third generation trooper in the Tennessee Highway Patrol.
About Tennessee Department of Safety
The Tennessee Department of Safety and Homeland Security's (www.TN.Gov/Safety) mission is to ensure the safety and general welfare of the public. The department encompasses the Tennessee Highway Patrol, Office of Homeland Security and Driver License Services. General areas of responsibility include law enforcement, safety education, motorist services and terrorism prevention.