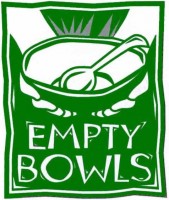 Clarksville, TN – Hands on Clarksville invited the community to the second annual Empty Bowls "Bowl-a-thon" hosted by Ken Shipley, Associate Professor Austin Peay State University on Saturday, October 8th from 5:00pm to 9:00pm in the Trahern building located on campus.
The LEAP Organization answered the invitation by sending board members, mentors, and mentees to help create the ceramic clay bowls. "This is really cool, I never thought I would get into playing with clay, but this is actually fun" commented Keynan Puckett, one of the LEAP mentees who also brought his family to join in this community service outreach event.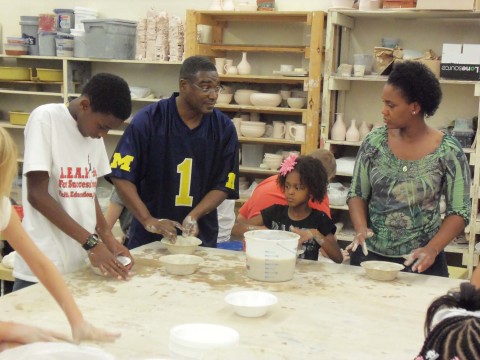 The "Bowl-a-Thon" was a way for the community to get involved with Empty Bowls and help fight hunger locally. With a ball of clay, some creativity and a bit of sweat, volunteers made about 300 bowls that will be painted and used at the Empty Bowls Lunch/Dinner slated for February 28th, 2012. Making bowls was a new experience for many of the volunteers who received support from APSU ceramic students and Professor Shipley who taught handmade methods on site.
The purpose of the "Bowl-a-Thon" is to produce a number of bowls for the "Empty Bowls" project. As stated on organization website, "Empty Bowls" goals are "to raise money to help organizations fight hunger, to raise awareness about the issues of hunger and food security, and to help bring about an attitude that will not allow hunger to exist." The project, in conjunction with artists and art organizations, produce the bowls, which are donated to the Urban Ministries of Clarksville.
All bowls will be used to support the Empty Bowls event that is held in February and benefits Loaves and Fishes and Urban Ministries Food Pantry. For more information contact Rita Arancibia, Hands on Clarksville at 931.551.5450 or e-mail rita@hon.org.