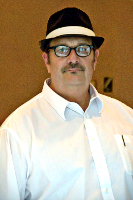 I've been a member of the media for so  long, I take many things for granted.  I've always approached a news story the same way, and that's try to get both sides of the story.  While I admit I've made tons of mistakes and had to apologize more than once, I just can't buy into the way the media game is played today.
There is no "breaking news" anymore. We have it sent to our phone, or computer.  You don't have to "turn on" the radio, or "read" the newspaper, or, (god forbid) turn the TV on, you just sit there, ( whatever), and the news comes to you.   So with that said, how does a talk show host, (radio or tv) get you to tune in?
ATTACK!  FIRE THE CANNONS!
I've certainly had some tense interviews in 37 years.  I've said things, and gotten upset at guests before, and it was a mistake, but I'm human so that's going to happen.  Today though, that's the theme.  It's a wonder anyone would ever go on a talk show anymore.  Most of them are selling a book, or promoting a tv show or movie, so they have to.
I was watching the despicable Pierce Morgan the other night.  He was interviewing Joel Osteen, and try as he might, he just couldn't get Joel to "engage" in the type of interview he was after.  (Of course, the media has no clue how to report religion, but we'll save that for another time)
I was embarrassed for Morgan.  Countless times I've seen the notorious Fox News network engage in guerrilla journalism, and don't get me started on MSNBC.  The thing is, that's what the public apparently likes.  It's just not me.  (insert classic Don Henley lyric, "is the head dead yet?")
I grew up in a time when Walter Cronkite, David Brinkley, and others, just appeared during dinner, and we heard the news.  Could you imagine Cronkite carrying on like Bill O'Reilley?  Harry Reasoner like Shawn Hannity?  Sam Donaldson as Wolf Blitzer?  Good god!
I wake up one day, and I'm like, "what the hell happened"? I know it sounds absurd, but it makes me work harder.  To be more concerned with the facts, and both sides of the story.
I'm often accused all the time of being this or that,  but one thing I know,  people don't care what I think, but they want to hear it.  Everybody has an opinion, but we don't respect it.  And if CNN has anything to do with it, there's  a video, oh, and Anderson Cooper.