Nashville, TN – The Beatles changed music forever, and their fans are as loyal today as they were when that "Little band from Liverpool" arrived in the United States.  Now, middle Tennessee Beatles fans can "Come together" and help Habitat for Humanity at the same time.
"The House the Beatles Fans Built" is three events this week in Nashville, that will give Beatles fans a chance to help Habitat for Humanity, and meet some of those closest to the "Fab Four" during their amazing time together.
First, on Monday, October 17th, there will be a book signing at" Two Old Hippies" in the Gulch, Nashville"s new and trendy hot spot from 6:00pm-8:30pm.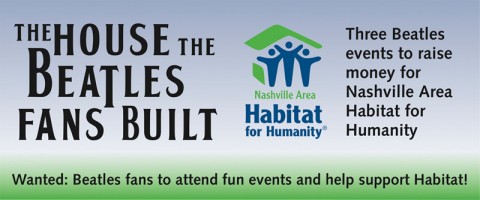 Nancy Lee Andrews, former girlfriend to Ringo Starr, will sign copies of her book, "A Dose of Rock n Roll",  a collection of photos taken during her time with the Beatles, capturing a rare look at John Lennon, Paul McCartney, George Harrison and Ringo Starr. Andrews, a Nashville resident, fell in with the Beatles in the early seventies while in Los Angeles, and was once engaged to Ringo Starr.

Authors Richard Courtney and George Cassidy will also be on hand to sign copies of their book, "Come Together, the Business Wisdom of the Beatles". Courtney, a Nashville resident also, is one of the foremost authorities on the Beatles, and their many failed business ventures, some of which changed the way the  music business operates today. "Come Together" documents the relationship between Alan Klein, George Martin and others closest to the Beatles and their business dealings.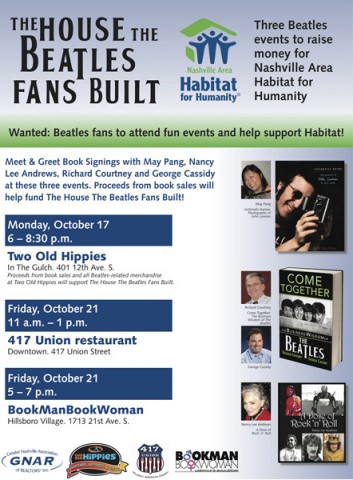 Fans will also get a chance to meet May Pang, who spent several years with John Lennon during the time he was separated from Yoko Ono.  Her book, "Instimatic Karma: Photographs of John Lennon" will also be available.  Pang, who Ono sent to be with Lennon when he went to LA, because as she said, "He couldn't do it alone.", stayed with John for several years, leading some to speculate that Pang had replaced Ono.
Then on Friday, October 21st, there will be two more events with the authors. The first is at 417 Union Restaurant in downtown Nashville from 11:00am-1:00pm. The second will be at BookMan BookWoman in Hillsboro Village from 5:00pm-7:00pm.
Representatives with the Nashville Area Habitat for Humanity will be on hand as well, and all proceeds from these events will help raise $30,000 needed to complete a Habitat House in Nashville.  Courtney, who is also a real estate agent in the Music City, helped organize the event to help complete a Habitat house that was left unfinished.
For more information about this week's events, you can listen to the podcast of their interviews with talk show host, Hank Bonecutter at www.wjzm.com.  Listen to the October 15th Clarksville in Review radio show.
About Hank Bonecutter
Sections
Events
Topics
417 Union Restaurant, A Dose of Rock n Roll, Alan Klein, BookMan BookWoman, Come Together the Business Wisdom of the Beatles, George Cassidy, George Harrison, George Martin, Hillsboro Village, Instimatic Karma: Photographs of John Lennon, John Lennon, Liverpool London, Los Angeles CA, May Pang, Music City, Nancy Lee Andrews, Nashville Habitat for Humanity, Nashville TN, Paul McCartney, Podcast, Richard Courtney, Ringo Starr, Tennessee, The Beatles, The House the Beatles Fans Built, Two Old Hippies, United States, WJZM 1400 AM, Yoko Ono