Clarksville, TN – Clarksville Police are looking for assistance identifying suspects involved in a robbery of an individual which took place November 11th, 2011, around 8:30pm.
A 32 year old male was supposed to meet a female that he had originally met a few days earlier named "Cookie", in front of 232 Pin Oak drive.  When he arrived three males jumped out of a PT cruiser with guns, pistol whipped him, robbed him of almost $3,000 in cash and jewelry, fired a round from a gun and fled from the area.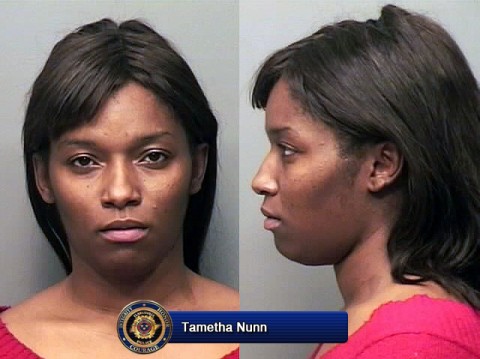 Officers spotted the vehicle traveling south on Wilma Rudolph Boulevard, got behind the vehicle, pursued it to the area of Lincoln Street and Vanleer Street where the suspects jumped out of the vehicle.
The PT Cruiser was a rental vehicle and the woman who had rented it, Tametha Nunn attempted to report the vehicle as stolen shortly after the suspects jumped out of the vehicle.
It did not take long for Detective Rodney Lifsey to determine the vehicle had not been stolen as reported. Tametha Nunn, 27, 52 Ladd Street was charged with False Report.
The investigation has not lead Police to the identity of the male robbery suspects or "Cookie".
"Cookie" is described as a B/F, red hair, glasses, thin build, late teens/early 20s.
Anyone with information is asked to call the TIPSLINE, 931.645.8477.