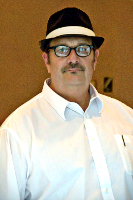 With each passing day, things are changing in Clarksville.  One of the best things about our community has been the rich history of family owned businesses.  A couple of them have closed this year and it makes me sad.
Swift Cleaners closed earlier in the year due to the changing trends of society and lack of business.  With locations on Crossland Avenue and Wilma Rudolph Boulevard, Swift Cleaners had been a Clarksville mainstay.
My family had a rich history in the cleaning business as my late grand father John Johnson owned the Clarksville Laundry.  At the time, it was one of the biggest businesses in town, and Johnson was a pillar of the community.
That gave way to George Watts who owned the laundry for a time, then Mr and Mrs Harlan Swift and their family took over the business up until this year.  Harlan Swift was one of the kindest men I ever met, and you would always run into someone you knew at "The cleaners."  Bruce Swift was the last of the family to run the business, and closed this year filing bankruptcy.
This week, Sites Jewelers announced they were closing their doors. Eighty-nine years ago, C.G Sites started the business when he bought Cook's Jewelers in downtown Clarksville and now, four generations later, they're closing their doors.  According to Bill Sites Sr, "Now's the time."  Sites Sr and his son Bill Sites Jr apparently decided they were going in different directions professionally and so the Clarksville store will close.
All of us have cherished memories of gifts we've purchased at Sites Jewelers. For me, I have a Rolex watch that belonged to my late father that I would only trust to Sites Jewelers. Now, I have to find somone else. That watch is one of the most valuable memories I have of my father. My mother bought the watch direct from the factory that made it when we were stationed in Europe in the sixties as a gift for my father. It's a special timepiece. We all have special memories of Sites Jewelers.
The economy is changing, and the internet is affecting everything we do. It's causing locally owned businesses to not only compete with the big box stores, but to compete with a global marketplace. It's a real challenge. I believe we must support local business, because they support us. I dread the day where we all become computer "zombies" and conducting our lives in front of a computer screen. 
Farewell Swift Cleaners, and Sites Jewelers. We have special memories of you.